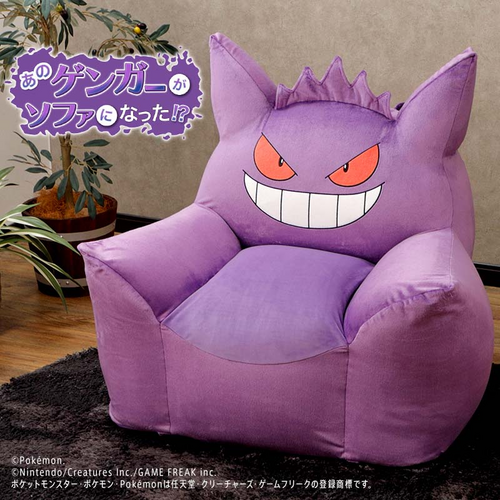 Cellutane, a long-established sofa manufacturer, has created the Gangar sofa from the Pokémon series. A fun item for the Christmas season! Following in the footsteps of Kabigon and Metamon, comes the long-awaited Gangar sofa!
Pictures from the press release have been added to an Imageboard thread
.
Gangar is everyone's favorite Pokémon, with its distinctive upturned eyes and big mouth. The Gangar Beaded Sofa features Gengar's facial expressions as well as comfortable seating. The Gengar Beaded Sofa provides the fun and pleasure of being wrapped up in your favorite Pokémon while relaxing at home. The product is available at Cellutane's Online Store and other stores.

Expressing the "Gangar" Character
Gangar's distinctive head parts and back have been designed with great attention to detail. The design is cute even when viewed from behind.
Comfortable to sit in
Sugo Beads, a well-balanced combination of urethane and tiny beads, are used. It fits well and gives you the feeling of being wrapped up.
Outstanding stability
With a backrest and elbowrests, you can sit comfortably with your whole body. You can relax even after sitting for a long time.
Easy to clean
The weight of the chair is light enough that it can be easily moved by a woman. The cover can be washed in a washing machine, so it is safe even for families with small children.
Made in Japan with confidence in quality
Cellutane is a long-established sofa manufacturer that has been in business for 50 years. We have confidence in the quality of our products because we consistently develop and manufacture them in-house.
Product Details:
Product name:
Gengar Beaded Sofa (ゲンガービーズソファ)
Price:
25,990 yen (tax included)
Fillings:
Polystyrene foam beads / High modulus urethane foam
Size:
W920 x D820 x H800mm *Measured at the maximum value because the contents are beads.
Weight:
approx. 8.85kg
Production:
Made in Japan (Cover is imported)
SKU:
50700-001
Source:
https://cellutane.co.jp/products/pokemon-gangarsofa