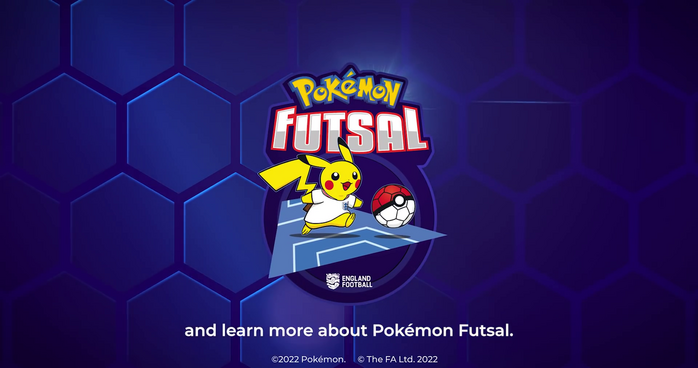 To launch the new Pokémon Futsal resources for 2022, we wanted to go BIG.... So, with our partner England Football, we thought that there would be no better person for the occasion than the England Senior Men's Manager himself, Gareth Southgate... with a bit of help from Pikachu of course.
Gareth paid a trip to Torriano Primary School to surprise a group of Year 5 students during their Pokémon Futsal Masterclass and offered some training tips!
High resolution pictures from the press release have been added to an Imageboard thread
.
YouTube Clip - UK: England Manager Gareth Southgate delights school with surprise visit to Pokémon Futsal class.
Source:
https://www.youtube.com/watch?v=RaLZzQ42kI0
Gareth Southgate delights school with surprise Pokémon Futsal skills masterclass
England Manager visits Torriano Primary School, Camden to launch expanded and enhanced programme of futsal-based activities as part of the 2022 Schools Games initiative. ​​​​​​​
London, United Kingdom — February 08, 2022. – England manager Gareth Southgate helped launch the latest additions to the Pokémon Futsal programme with a surprise visit and skills masterclass to pupils at Torriano Primary School in Camden, London. During the session pupils trialled the new resources which are available to download today, via mastertheball.com
Offering the ultimate team talk to 16 excited youngsters, Southgate gave children from the school's year five class a taste of elite level coaching as he stepped in to offer advice during a training session with leading FA coaches.
During the session, Southgate and the coaches engaged the children in a series of games from the Pokémon Futsal resources for 2022. He outlined the importance of futsal in developing football skills - both technically and tactically - as well as discussing the exciting year ahead for England Football. The pupils were also given a series of Pokémon gifts including a special trading card featuring Pikachu in an England shirt.
Speaking about his involvement at the event, Southgate said: "I am delighted to visit Torriano Primary School to celebrate their efforts with Pokémon Futsal and support the launch of the new school resources for 2022. It's amazing to see and hear about the passion for Pokémon Futsal. I've worked a lot in youth football and know how important futsal can be as a pathway for developing a young person's football skills and confidence before they transition to the 11-aside format. The new resources created by Pokémon and the FA will make futsal fun and engaging as well as offering a great opportunity to build confidence through small-sided games. I would encourage as many schools as possible to visit Mastertheball.com and learn more about Pokémon Futsal."
Futsal is an exciting, fast-paced form of the game that originates in South America; several world stars have roots in the game. Played on hard pitches with small-sided teams, futsal places emphasis on technical skill in restricted spaces and creates an environment that allows young people to simulate and develop many skills and proficiencies that are transferrable to the 11-a-side game. The partnership works to encourage children of all abilities to play futsal and develop their skills in a fun and supportive environment.
Pokémon Futsal combines a series of fun futsal training games that aim to help schools introduce futsal or prepare for the School Games. The programme is available as a competition option for School Games Organisers (SGOs) at a local level as part of the School Games; a government led initiative designed to deliver competitive school sport to all young people.
Building on the success of last year's inaugural programme which was created to offer pupils access to futsal in the absence of inter school competition, the new 2022 resources have been created to expand and enhance the Pokémon Futsal offering to schools. These resources have been developed for teachers and School Games Organisers looking to add exciting new ways to provide every child with a positive experience of competition through futsal, encourage children to take up futsal or improve their footballing skills.
New for 2022, schools will now have access to a series of new games (2v2, 3v3, 4v4) to take part in during the spring term. These are designed to build skills and confidence, whilst introducing players to futsal or preparing for a summer School Games futsal competition.
Torriano Primary School was selected by the FA to try out the new resources, after showing their enthusiasm for the Pokémon Futsal Challenge in 2021. Last year, over 55 pupils from the school took part in the various challenges as part of their morning football club sessions.
Speaking about their special guest, PE teacher Carmen Blanco, who has been responsible for the Torriano Primary School's participation in the initiative said: "To see the kids' faces light up as Gareth entered the room was absolutely magical. As a school, we have loved learning about futsal and completing the challenge during our morning football sessions. The shooting challenge is a particular favourite. We have discovered so much about Pokémon Futsal and are delighted to be the first school to try this year's new activities."
Pokémon is the title partner of the FA's Youth Futsal Programme which aims to work with boys and girls aged eight–sixteen. Alongside the Pokémon Futsal initiative in schools, futsal clubs across the country have registered to take part in this season's Pokémon Youth Futsal Cup by England Football, which kicked off in November 2021 and culminates in a national finals this June.
The partnership works to encourage children of all abilities to play futsal and develop their skills in a fun and supportive environment.
"We're delighted to have Gareth's support to help us launch the 2022 Pokémon Futsal resource; the advice he has offered to the children that haven taken part in the masterclass is invaluable," said Peter Murphy, Senior Director of Marketing at The Pokémon Company International. "Through our partnership with the FA, we wanted to ensure that the futsal activities we offer are engaging, fun and accessible, to help children across the country level up their football skills. We look forward to seeing the progress that will be made by all of those who have signed up."
Pokémon Futsal is offered to schools around the country as one of the School Games competitions, with over 6,000 children taking part in the Pokémon Futsal Challenge in 2021.
Schools looking to find out more about the Pokémon Futsal offering, can visit the Schools Hub on mastertheball.com. Those taking part in the programme may be in with a chance of winning a selection of Pokémon themed futsal gifts.
The 2022 Pokémon Futsal resources will be available to access from the 8th February. To learn more about the new elements of Pokémon Futsal and how your school can get involved in this and the Schools Games head to
https://www.mastertheball.com/schools-hub/