On April 1st, 2022, Shogakukan Productions (ShoPro) released a press release and PV video to celebrate the 25th anniversary of the Pocket Monsters anime in Japan and to showcase the upcoming climax to the current Pocket Monsters series.
New Key Visuals and PV Revealed!
A special video commemorating the 25th anniversary of the TV anime is also now available!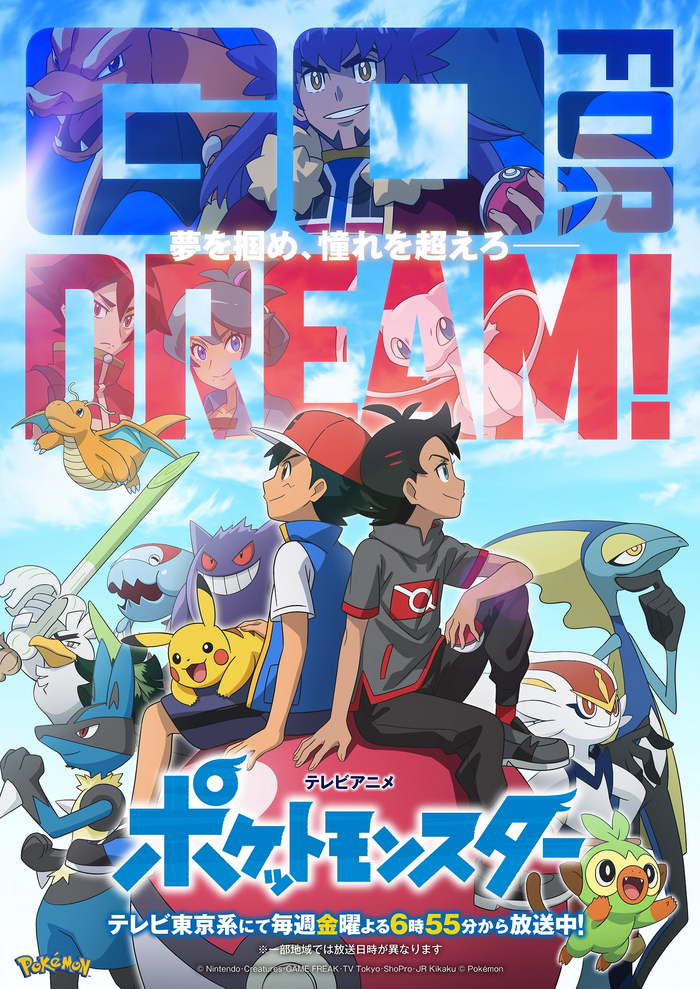 The TV anime Pocket Monsters, which airs every Friday at 6:55 pm on TV Tokyo, has unveiled a new key visual and PV! The key visual released this time depicts the two main characters, Satoshi and Go, and their Pokémon partners, as well as Satoshi's goal, Dande, and Go's goal, the Mythical Pokémon Mew. The refreshed visuals show their desire to continue pursuing their dreams.
Also, a new PV has been released! Satoshi aims to battle Dande, the strongest champion, and Go aims to pass Project Mew in order to get Mew, whom he met as a child. The two are pursuing their respective dreams, and there are plenty of scenes that remind us of their upcoming adventures! Koharu and her partner Pokémon Eievui, dressed in their contest costumes, also make an appearance. Watch out for the two of them on the gorgeous stage!
The PV also features Shinji, a rival with whom Satoshi once had heated battles with, and Gekkouga, a Pokémon with whom he shared many adventures! For those who have seen the previous Pocket Monsters series, the content is highly anticipated. The main story of the anime will continue to accelerate toward the climax for the two, so don't miss it!
The PV released today is now available on the official Pokémon YouTube Channel.
YouTube Clip - Pocket Monsters Anime Promotional Video 10
Source:
https://www.youtube.com/watch?v=1a04Tizpmm4
Special video for the 25th anniversary of the TV animation Pocket Monsters is also now available!
The TV anime Pocket Monsters celebrated its 25th anniversary of its first broadcast on April 1st, 1997. To commemorate this, a special video is being released on the official Anipoke Twitter on midnight on Friday, April 1st, 2022!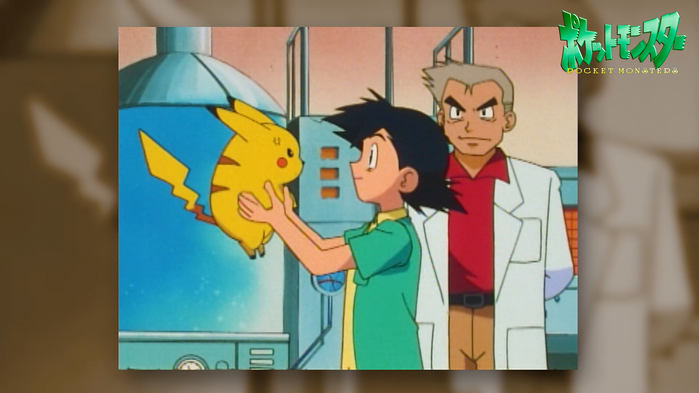 Beginning with Satoshi's encounter with his one and only partner, Pikachu, the video traces Satoshi's adventures over the past 25 years, looking back at the Pokémon he has met. It is full of scenes that will make you nostalgic, even if you watched the anime as a child, so please pay attention!
25th Anniversary Retrospect Video
Source:
https://twitter.com/anipoke_PR/status/1509546056224485379
新たなキービジュアルとPVを解禁!
テレビアニメ25周年を記念した特別映像も公開中!
テレビ東京系にて毎週金曜よる6時55分に放送中のテレビアニメ「ポケットモンスター」は、新たなキービジュアルとPVを解禁しました!
今回解禁となったキービジュアルは、W主人公のサトシとゴウ、二人のパートナーポケモンたちに加え、サトシの目標であるダンデと、ゴウの目標である幻のポケモン・ミュウが描かれています。夢を目指して進み続ける二人の想いが感じられる爽やかなビジュアルとなっています。
また、PVも新たに解禁!最強の王者ダンデとのバトルを目指すサトシと、幼い頃に出会ったミュウにたどり着くため、「プロジェクト・ミュウ」の合格を目指すゴウ。それぞれの夢を目指す二人の、これからの冒険を想起させるシーンが盛りだくさんです!さらに、コンテスト衣装に身を包むコハルとパートナーポケモンのイーブイも登場。華やかなステージに立つふたりの姿にご注目ください!
PVには、かつてサトシと熱戦を繰り広げたライバル・シンジや、冒険を共にしたポケモン・ゲッコウガの姿も!これまでの「ポケットモンスター」シリーズをご覧になった方にとっても、期待が高まる内容になっています。アニメ本編も、2人の最高潮(クライマックス)に向かってどんどん加速する展開になっていきますので、お見逃しなく!
本日公開されたPVはポケモン公式YouTube(https://youtu.be/1a04Tizpmm4)で公開中!
是非この機会にご紹介のご検討を頂けますよう、お願い申し上げます。
■テレビアニメ「ポケットモンスター」25周年特別映像も公開中!■
テレビアニメ「ポケットモンスター」は、1997年4月1日の初回放送から25年を迎えました。それを記念して、2022年4月1日(金)0時より特別映像をアニポケ公式Twitterで公開中!
サトシの唯一無二のパートナー・ピカチュウの出会いから始まり、これまでにサトシが出会ってきたポケモンたちを振り返りながら25年間の冒険の軌跡をたどる映像になっています。子供の頃にアニメを見ていた方も思わず懐かしくなるようなシーンが満載ですので、是非ご注目ください!