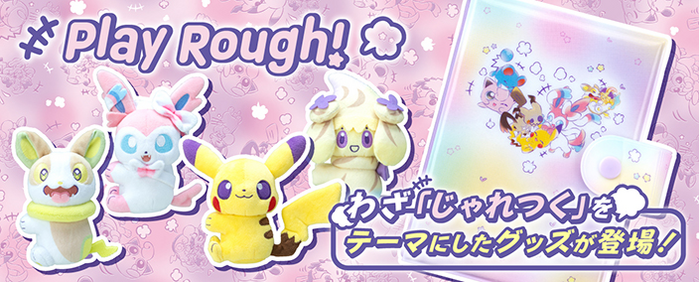 The official Japanese Pokémon website has revealed a cute line of Pokémon products called
Play Rough!
which is scheduled to go on sale at the Pokémon Center on April 16th, 2022. Just looking at them is exciting!
Play Rough
is the English term for a Pokémon move. The Pokémon Center Online will start selling them at 10:00 a.m. JST on April 14th, 2022.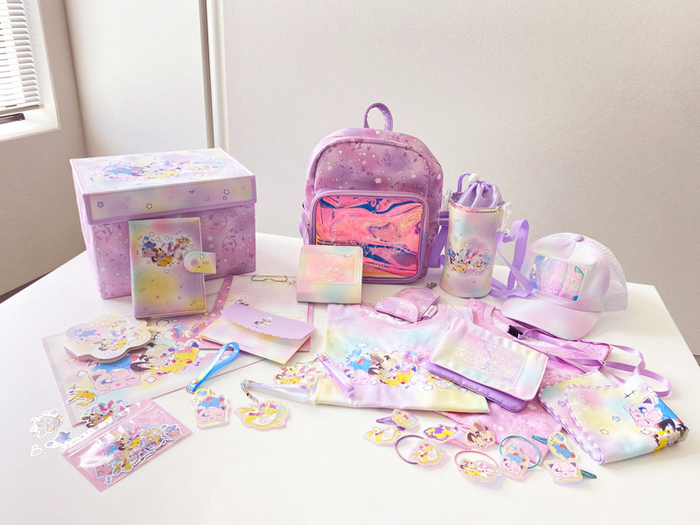 Item Pictures: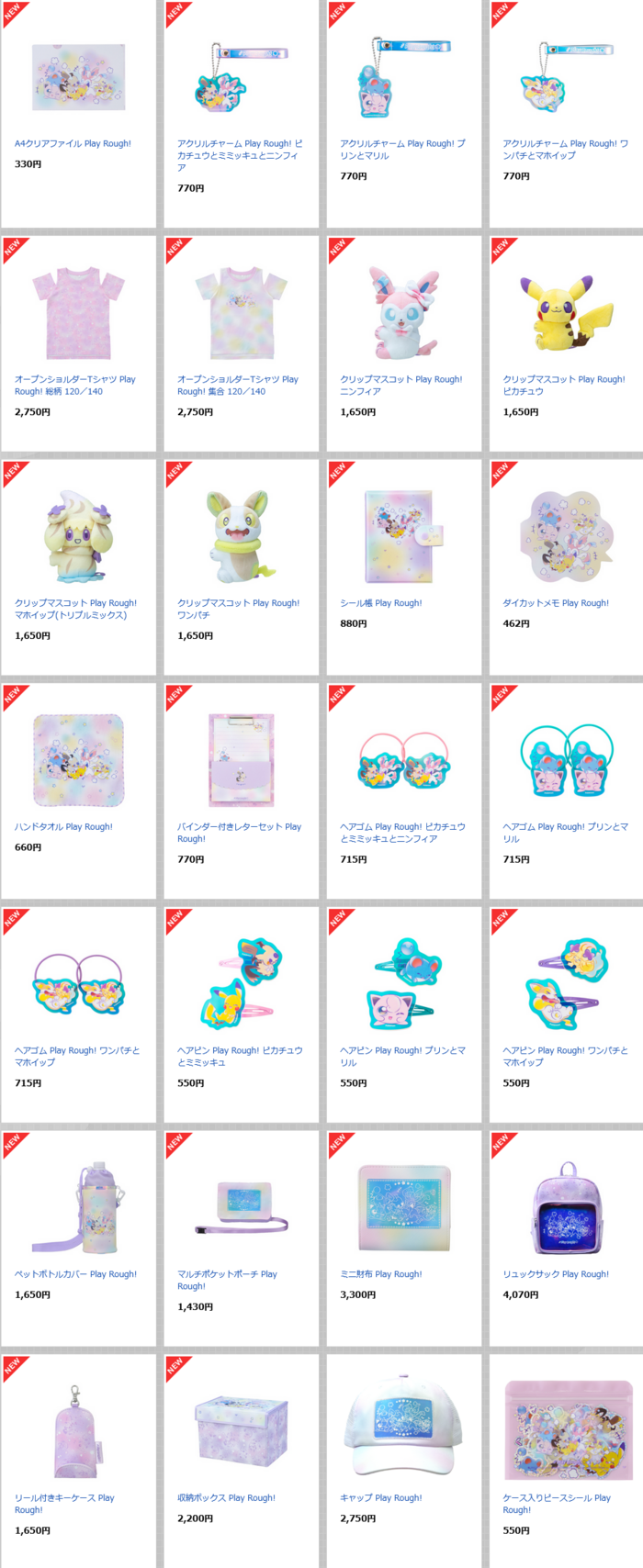 Item List (English):
Open Shoulder T-shirt Play Rough! Set 120 - 2,750 yen
Open Shoulder T-shirt Play Rough! Set 140 - 2,750 yen
Open Shoulder T-shirt Play Rough! Full Shirt Pattern 120 - 2,750 yen
Open Shoulder T-shirt Play Rough! Full Shirt Pattern 140 - 2,750 yen
Cap Play Rough! - 2,750 yen
Backpack Play Rough! - 4,070 yen
Key Case with Reel Play Rough! - 1,650 yen
Mini Wallet Play Rough! - 3,300 yen
Multi-Pocket Pouch Play Rough! - 1,430 yen
Plastic Bottle Cover Play Rough! - 1,650 yen
Hair tie Play Rough! Pikachu, Mimikyu and Nymphia - 715 yen
Hair tie Play Rough! Wanpachi and Mawhip - 715 yen
Hair tie Play Rough! Purin and Maril - 715 yen
Hairpin Play Rough! Pikachu and Mimikyu - 550 yen
Hairpin Play Rough! Wanpachi and Mawhip - 550 yen
Hairpin Play Rough! Purin and Maril - 550 yen
Acrylic Charm Play Rough! Pikachu, Mimikyu and Nymphia - 770 yen
Acrylic Charm Play Rough! Wanpachi and Mawhip - 770 yen
Acrylic Charm Play Rough! Purin and Maril - 770 yen
Storage Box Play Rough! - 2,200 yen
A4 Clear File Play Rough! - 330 yen
Sticker in Case Play Rough! - 550 yen
Die-cut Memo Play Rough! - 462 yen
Sticker Book Play Rough! - 880 yen
Letter Set with Binder Play Rough! - 770 yen
Hand Towel Play Rough! - 660 yen
Clip Mascot Play Rough! Pikachu - 1,650 yen
Clip Mascot Play Rough! Wanpachi - 1,650 yen
Clip Mascot Play Rough! Nymphia - 1,650 yen
Clip Mascot Play Rough! Mawhip (Triple mix) - 1,650 yen
Item List (Japanese):
オープンショルダーTシャツ Play Rough! 集合 120 2,750円
オープンショルダーTシャツ Play Rough! 集合 140 2,750円
オープンショルダーTシャツ Play Rough! 総柄 120 2,750円
オープンショルダーTシャツ Play Rough! 総柄 140 2,750円
キャップ Play Rough! 2,750円
リュックサック Play Rough! 4,070円
リール付きキーケース Play Rough! 1,650円
ミニ財布 Play Rough! 3,300円
マルチポケットポーチ Play Rough! 1,430円
ペットボトルカバー Play Rough! 1,650円
ヘアゴム Play Rough! ピカチュウとミミッキュとニンフィア 715円
ヘアゴム Play Rough! ワンパチとマホイップ 715円
ヘアゴム Play Rough! プリンとマリル 715円
ヘアピン Play Rough! ピカチュウとミミッキュ 550円
ヘアピン Play Rough! ワンパチとマホイップ 550円
ヘアピン Play Rough! プリンとマリル 550円
アクリルチャーム Play Rough! ピカチュウとミミッキュとニンフィア 770円
アクリルチャーム Play Rough! ワンパチとマホイップ 770円
アクリルチャーム Play Rough! プリンとマリル 770円
収納ボックス Play Rough! 2,200円
A4クリアファイル Play Rough! 330円
ケース入りピースシール Play Rough! 550円
ダイカットメモ Play Rough! 462円
シール帳 Play Rough! 880円
バインダー付きレターセット Play Rough! 770円
ハンドタオル Play Rough! 660円
クリップマスコット Play Rough! ピカチュウ 1,650円
クリップマスコット Play Rough! ワンパチ 1,650円
クリップマスコット Play Rough! ニンフィア 1,650円
クリップマスコット Play Rough! マホイップ(トリプルミックス) 1,650円
Sources:
https://www.pokemon.jp/info/pokecen/detail/20279.html
and
https://www.pokemoncenter-online.com