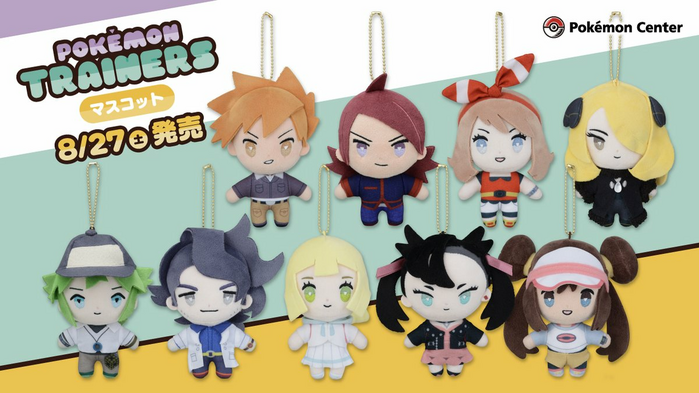 On August 27th, 2022, another
Mascot POKÉMON TRAINERS
set of Trainer Plushies from the Pokémon series will appear at the Pokémon Center! The nine trainers appearing this time are Green, Silver, Haruka, Shirona, N, Mei, Professor Platane, Lilie, and Marie. Let's have fun collecting mascots of your favorite trainers! These are the same trainers that will appear in the Pokémon Masters EX Trainers Salon update which will be available on Sunday, August 28th, 2022. The mascots will be available at the Pokémon Center Online from 10:00 a.m. on August 25th, 2022!
Details on the previous Mascot POKÉMON TRAINERS - Pokémon Sword and Shield set are available here
.
Please note that the release may be postponed or cancelled due to the situation in the production area. Please be aware of this beforehand.
At the Amazon.co.jp Pokémon Store, pre-orders for products will be starting on August 27th, 2022 and sales starting on September 3rd, 2022, but due to the limited number of products available, they may be sold during the pre-order period.
Item List (English):
Mascot POKÉMON TRAINERS Green - 1,650 yen
Mascot POKÉMON TRAINERS Silver - 1,650 yen
Mascot POKÉMON TRAINERS Haruka - 1,650 yen
Mascot POKÉMON TRAINERS Shirona - 1,650 yen
Mascot POKÉMON TRAINERS N - 1,650 yen
Mascot POKÉMON TRAINERS Mei - 1,650 yen
Mascot POKÉMON TRAINERS Professor Platane - 1,650 yen
Mascot POKÉMON TRAINERS Lilie - 1,650 yen
Mascot POKÉMON TRAINERS Marie - 1,650 yen
Item List (Japanese):
マスコット POKÉMON TRAINERS グリーン 1,650円
マスコット POKÉMON TRAINERS シルバー 1,650円
マスコット POKÉMON TRAINERS ハルカ 1,650円
マスコット POKÉMON TRAINERS シロナ 1,650円
マスコット POKÉMON TRAINERS N 1,650円
マスコット POKÉMON TRAINERS メイ 1,650円
マスコット POKÉMON TRAINERS プラターヌ 1,650円
マスコット POKÉMON TRAINERS リーリエ 1,650円
マスコット POKÉMON TRAINERS マリィ 1,650円
Source:
https://www.pokemon.co.jp/goods/2022/08/220819_to02.html