The Pokémon Company is celebrating Oddish today and it has appeared in all aspects of the franchise recently. Below are some of the things being promoted about Oddish.
Discover Pokémon Together: An Oddish Tale
Source:
https://www.youtube.com/watch?v=gqg2zwPDWjo
Discover Pokémon Together: Oddish
Find out how this little Grass and Poison-type Pokémon has had a huge impact on Pokémon history for over 25 years.
The happy and humble Oddish has been fan-favorite Pokémon since players first stepped into the Pokémon world. It has the distinction of being one of the first version-exclusive Pokémon, catchable only in Pokémon Red. Trainers exploring Kanto in Pokémon Blue would have to trade for the Grass- and Poison-type Pokémon if they wanted it.
Oddish's legacy goes well beyond the video games, with it and its evolved forms making important appearances in the Pokémon TCG, animation, and much more. So, let's celebrate Oddish with the video "An Oddish Tale" and in many other fun ways as we Discover Pokémon Together.
Path to the Peak: Ava and Oddish
The recently released limited series
Path to the Peak
showcases Ava's inspiring discovery of the fun of the Pokémon Trading Card Game. Joined by her partner, Oddish, she tests her skills and pushes her talents to see how great of a player she can be. All four episodes of Path to the Peak are now on Pokémon TV and the official Pokémon YouTube channel. Catch Oddish and Ava in action today.
Path to the Peak Promo Card: Oddish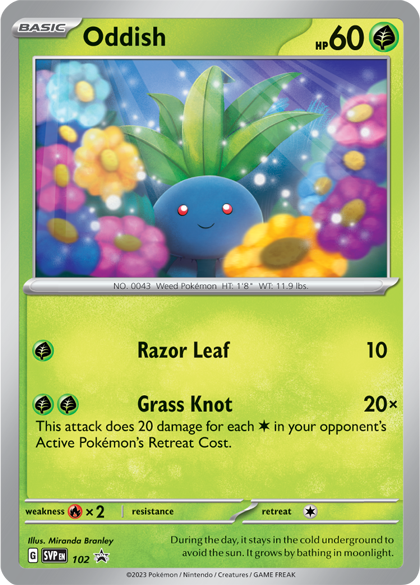 Oddish SVP 102
The Path to the Peak fun isn't done—players can get a special Pokémon TCG promo card featuring the Oddish from the series. Stay tuned for information on how to get this special card. Plus, look for Oddish in the Pokémon TCG: Scarlet & Violet—151 expansion, which features every Pokémon from the original Kanto Pokédex.
Pokémon GO: Oddish Research Day
Trainers might even find an Oddish in their own backyard—Oddish has appeared in Pokémon GO since 2016, and it's still making its mark. Look for a special Research Day on September 17, where Oddish will appear more frequently, and players can earn in-game bonuses and rewards.
Twitch Marathon: Oddish
With such a long history it's little surprise that Oddish has made a number of appearances in Pokémon animation. To celebrate its exciting roles, be sure to catch a special marathon featuring Oddish on Twitch. The marathon will take place on September 7 on the
Twitch.tv/Pokemon
.
Source:
https://www.pokemon.com/us/pokemon-news/discover-pokemon-together-oddish