The latest episode of Pokémon Sunday,
Rocket Gang! Goodbye by Fury Swipes!! / Pokémon Fishing and Performers! / Revealing Ranger Sign to the Public!' (ロケット団!みだれひっかきでサヨウナラ!! / 芸能人とポケモンフィッシング!/ レンジャー隠しサイン公開!)
, aired today in Japan.
A new theme for the rerun episodes, "Pokémon Farewell Stories", continued this week. The second episode to be shown under this banner was the Advanced Generation episode '
Rocket Gang! Goodbye by Fury Swipes!!
'. Rocket Gang encounter Pokémon Hunter Rico who is attempting to capture a group of Arbo and Dogas.
A full synopsis of this episode is available in the episode guide.
As the live action segment begins, Professor Red debuts his latest invention, the RED054 Pokémon Transformation Fishing (RED054 ポケモンなりきりフィッシング) Rod. Members of the staff each took turns using the fishing rod and 'caught' different wigs. Each of the wigs corresponded with a character from HeartGold and SoulSilver.
Director Golgo was the first to catch a wig which ended up being the Guitarist (ギタリスト) character. Golgo put the wig on and a cardboard cutout with a picture of the guitarist was giving to him to hold as it had cutout places for his head and hand. He was 'transformed' into the Guitarist.
Yamamoto went next and caught the wig for the Idol (アイドル). Like Golgo, he was also given a cardboard cutout with a picture of the Idol. He started singing and dancing around a bit as he held the cutout up to his body. Shoko caught the Skinhead (スキンヘッズ) skull cap and Akiyama who was the last to go fishing caught the Pokémon Collector (ポケモンコレクター) wig.
During the Pokémon Ranger Corner, Shoko announced the Ranger Sign for Aron that can be used in the new game Pokémon Ranger: Paths of Light (ポケモンレンジャー 光の軌跡). This sign is not revealed anywhere in the game. Players must register the sign in the Ranger Sign database before it can be used. A picture showing the stroke to draw is posted below.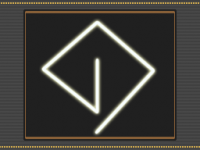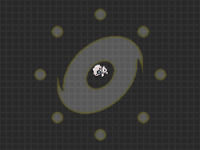 The two Pokémon Ranger download missions, Giratina's Platinum Orb!! (ギラティナにはっきんだまを!!) and The Pledge to Arceus (アルセウスへのちかい) which feature Arceus and Giratina were also announced on during the Ranger Corner. They will be released on Nintendo Wi-Fi Connection on April 15th, 2010 . Unlike the Deoxys' Mysterious Temple (デオキシスとナゾのしんでん) mission, players will be unable to transfer the captured Giratina and Arceus to Diamond, Pearl, Platinum, HeartGold or SoulSilver.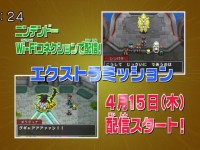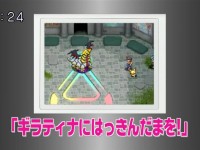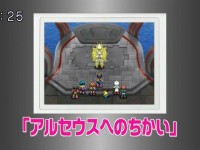 The episode preview also reminded viewers that there would be no new Pocket Monsters Diamond and Pearl episode next week. Instead a hour special will air on March 18th, 2010.