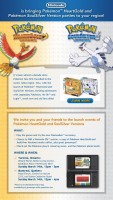 Nintendo.ca has announced that there will be two Pokémon HeartGold and SoulSilver parties in Toronto and Montreal. An e-mail sent on March 11th informed mailing list subscribers of the events. No official events for western Canada were announced. Below is the press release for the events.
NINTENDO is bringing Pokémon™ HeartGold and Pokémon™ SoulSilver Versions parties to your region!
It's been almost a decade since Pokémon™ fans first travelled to the scenic Johto region. Now, with the launch of Pokémon HeartGold and Pokémon SoulSilver Versions, thrilling adventures with Legendary Pokémon, Ho-Oh™ and Lugia™, await new and old fans alike!
We invite you and your friends to the launch events of Pokémon HeartGold and SoulSilver Versions.
WHAT:
Play the games and try the new Pokéwalker™ accessory. Fans can also check out the Pokémon character colouring zone, the Pokémon photo booth, and have the chance to win a Nintendo DSi system and copies of Pokémon HeartGold and SoulSilver Versions along with other great giveaways (while supplies last).
TORONTO, ON:
Sunday March 14, 12pm – 5pm
Wizard World, Better Living Centre,
Exhibition Place 195 Princes' Blvd
MONTREAL, QC:
Sunday March 14, 12pm – 4pm
Pepsi Forum, Centre Ice Atrium
2313, rue Sainte-Catherine Ouest
Prepare for thrilling NEW adventures as Legendary Pokémon awaken
Source:
http://nintendo.ca