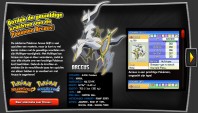 The official
Nintendo Europe website
has finally announced the Arceus event for Holland. Holland is one of the last European countries to receive this event which will take place on March 27th. Below is the Dutch press release translated by
SpooKy
.
Discover the great powers of the Pokémon Arceus!
The Pokémon Arceus will be available on a special distribution day at
Toys XL stores in Holland
. If you want to download Arceus you have to have a copy of Pokémon Diamond, Pokémon Pearl or Pokémon Platinum and bring it to Toys XL stores on March 27th, 2010. When you buy Pokémon HeartGold/SoulSilver on this day, you will get an exclusive Arceus figure.
Sources:
Nintendo Europe Website
&
Toys XL