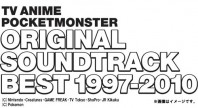 A new background music CD box set will be released in Japan on September 8th, 2010. TV Anime Pocket Monsters Original Soundtrack Best 1997-2010 (TVアニメ ポケットモンスター オリジナルサウンドトラック ベスト 1997-2010) will feature background music from the
original
,
Advanced Generation
and
Diamond and Pearl
anime series. The 2 disc set will feature approximately 80 of the best tracks from those series. It will also include a 16 page color booklet with an interview with Shinji Miyazaki. The CD's are also digitally mastered from the original masters. The CD set's catalog number is ZMCP-5452 and it will retail for a special price of 2730 yen.
The CD has been added to the database
. Information will be updated as it becomes available.
Source:
http://www.neowing.co.jp/detailview.html?KEY=ZMCP-5452