During the 2010 Nintendo Conference held at the Makuhari Messe in Chiba, Japan on September 29th, 2010, Nintendo announced the finalized specifications for their new system, the Nintendo 3DS. The Nintendo 3DS will be released on February 26, 2011 in Japan for the retail price of 25000yen. The system will be released in North American and Europe in March.
The system comes with: a charger stand, an AC adapter, a stylus and a 2GB SD card. The system measures 134mm wide by 74mm in height, is 21mm thick and weighs 230 grams. Like the DS, the 3DS includes two screens. The top screen is a 3.5 inch wide LCD with a resolution of 800x240 pixels and features Sharp's parallax barrier system for 3D gameplay without the need for 3D glasses. The bottom screen is a 3 inch wide LCD with a resolution of 320x240 pixels.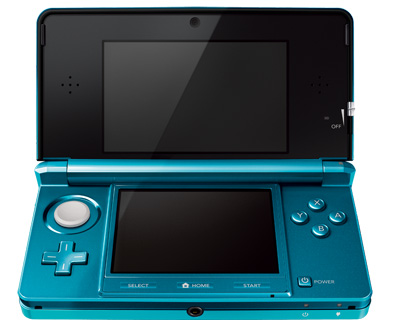 The Nintendo 3DS works with game cartridges from the Nintendo DS, so all DS Pokémon games should play fine on the new system including the latest
Pokémon Black and White
games.
Battle & Get! Pokémon Typing DS
Also announced at the 2010 Nintendo Conference was a new Pokémon for the Nintendo DS called:
Battle & Get! Pokémon Typing DS (バトル&ゲット! ポケモンタイピングDS)
. It is a Japanese learning game that allows children to learn roman characters while battling and getting their favorite Pokémon at the same time. The game will be released in Japan in 2011. Players run through a variety of courses such as forests and oceans and can encounter Zorua and Pikachu as well as hundreds of other Pokémon like Victini.
Features:
Allows children to learn roman characters in a unique and fun way through the World of Pokémon!
Battle & Get Pokémon from all Generations including the latest 5th Generation.
Sources:
http://www.pokemon.co.jp/info/2010/09/g100929_01.html
&
http://www.nintendo.co.jp/n10/conference2010/ds/