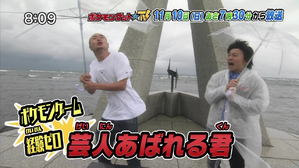 Available On:
2013-11-10 ニビジムのたたかい! / お笑い芸人「あばれる君」がポケモンXYの主人公になりきって交換だけで図鑑完成を目指す旅番組を放送!
2013-11-10 Nibi Gym no tatakai! / Owarai geinin 'Abareru-kun' ga Pokémon XY no shujinkō ni nari kitte kōkan dake de zukan kansei wo mezasu tabi-bangumi wo hōsō!
2013-11-10 The Fight at Nibi Gym! / The Broadcast of a Travelogue Show where Comedian 'Abareru-kun' is Turned into the Protagonist of Pokémon X/Y and Sent to Complete the Zukan Purely by Trading!