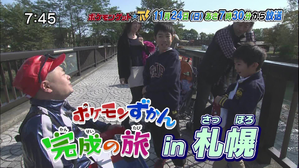 Available On:
2013-11-24 ハナダシティのすいちゅうか / 「ポケモンずかん完成の旅」第2回、あばれる君は初のポケモン交換なるか? / ポケテレチャレンジに新ゲーム登場!
2013-11-24 Hanada City no suichūka / 'Pokémon Zukan kansei no tabi' dai2kai, Abareru-kun wa hatsu no pokemon kōkan naru ka? / PokeTele Challenge ni shin game tōjō!
2013-11-24 The Water Flowers of Hanada City / Will Abareru-kun Make his First Pokémon Trade in this Second Installment of 'The Pokémon Zukan Completion Journey'? / A New Game Debuts in the PokéTV Challenge!