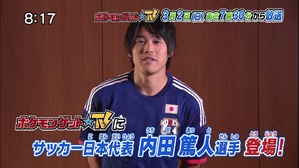 Available On:
2014-03-02 ゆうれいポケモンとなつまつり / 第1回「楽しく強くなろう! ポケバトツアーズ!」、今回は幕張周辺のグルメをかけてポケモンバトル! / 内田篤人選手が登場!
2014-03-02 Yūrei Pokémon to natsumatsuri / Dai1kai 'Tanoshiku tsuyoku narou! Pokébattours!', Konkai wa Makuhari shūhen no gourmet wo kakete Pokémon battle! / Uchida Atsuto-senshu ga tōjō!
2014-03-02 Pokémon Ghosts and the Summer Festival / In this First Installment of 'Get Better While Having Fun! PokéBatTours!', the Group has Pokémon Battles for Food Near Makuhari! / Atsuto Uchida Appears!