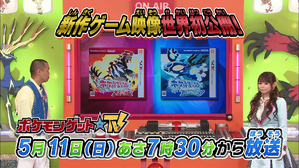 Available On:
2014-05-11 かくとうポケモン! だいバトル! / 第8回「ゲットさせるな!ポケモンかくれんぼゲーム」、春日がメガリングを装着してメガシンカ!? / トローゼで驚きの記録が!?
2014-05-11 Kakutō Pokémon! Dai battle! / Dai8kai 'Get saseru na! Pokémon kakurenbo game', Kasuga ga Mega Ring wo sōchaku shite mega shinka!? / Trozei de odoroki no kiroku ga!?
2014-05-11 Fighting Pokémon! The Big Battle! / In this 8th Installment of 'Get Them! The Pokémon Hide-and-seek Game', Kasuga Wears a Mega Ring and Mega Evolves!? / An Astonishing New Record in Trozei!?