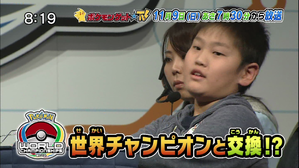 Available On:
2014-11-09 キモリの森! 巨大樹を守れ!! / 第16回「ポケモンずかん完成の旅」、大阪であばれる君がポケモンWCS2014チャンピオンのポケモンと交換達成!?
2014-11-09 Kimori no mori! Kyodaiju wo mamore!! / Dai16kai 'Pokémon Zukan kansei no tabi', Ōsaka de Abareru-kun ga Pokémon WCS 2014 champion no Pokémon to kōkan tassei!?
2014-11-09 The Forest of Kimori! Protect the Giant Tree!! / In the 16th Installment of the 'Pokémon Zukan Completion Journey', Will Abareru-kun Manage to Trade Pokémon with the Pokémon WCS 2014 Champion in Osaka!?