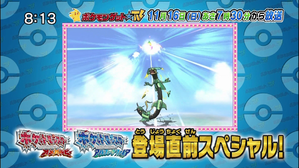 Available On:
2014-11-16 ハスボーとフラワーショップの三姉妹! / ポケモンORAS発売直前90分スペシャル / レックウザとADピカチュウのモンコレを宇宙に飛ばす大型企画等!
2014-11-16 Hassboh to flower shop no san shimai! / Pokémon ORAS hatsubai chokuzen 90pun special / Rayquaza to AD Pikachu no MonCollé wo uchū ni tobasu ōgata kikaku nado!
2014-11-16 Hassboh and the Three Sisters of the Flower Shop!! / A 90 Minute Pokémon ORAS Pre-Release Celebration Special / Lots of Awesome Segments, Including One Where Rayquaza and AD Pikachu's MonCollé Go Flying Through Space!