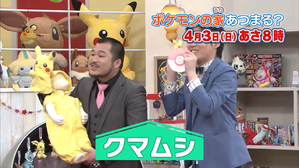 2016-04-03 人気者たちが続々登場してポケモングッズを紹介 / ポケモン新作ソフトの特別映像を開発者が語る! / バトル「大谷凜香 VS 視聴者」!
2016-04-03 Ninkimono-tachi ga zokuzoku tōjō shite Pokémon goods wo shōkai / Pokémon shinsaku soft no tokubetsu eizō wo kaihatsusha ga kataru! / Battle 'Ōtani Rinka VS shichōsha'!
2016-04-03 Celebrities Show Up One After Another to Showcase Pokémon Merchandise / The Developers Talk About the Special Footage of the New Pokémon Games! / Battle: Rinka Otani VS a Television Viewer!
OP/ED List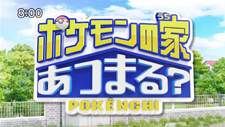 Gathering in the Pokémon House?

No notes available for this episode.
Japanese Music:
Music Statistics:
Number of Assigned Tracks to the Japanese Original: 0
Number of Assigned Tracks to the English Dub: 0