Scans from the latest CoroCoro issue have indicated that the Mewtwo event revealed by Shoko-tan on
Pokémon Smash 49
will take place from
September 26th, 2011 until October 31st, 2011
on the Japanese Nintendo Wi-Fi Connection for players of the Japanese versions of Pokémon Black & White. Full details of the event Pokémon will be announced at a later time.
Also announced was a new game for the Nintendo Wii called
PokéPark 2 Beyond the World (ポケパーク2 ビヨンド・ザ・ワールド)
. The game will feature 5th generation Pokémon, mini games and 4 player multiplayer. The game will be released in Japan this winter.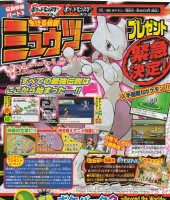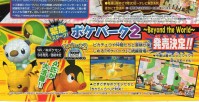 Click on images for higher resolution