The official website for
Pokémon Mystery Dungeon Gates to Infinity
has launched. The site contains information on:
The Story
,
Pokémon
,
Gameplay
,
Dungeons & Magnagates
,
Downloadable Content
,
News
and has the trailer for the game. Full details about the game can be found on the official site. Below are some of the highlights.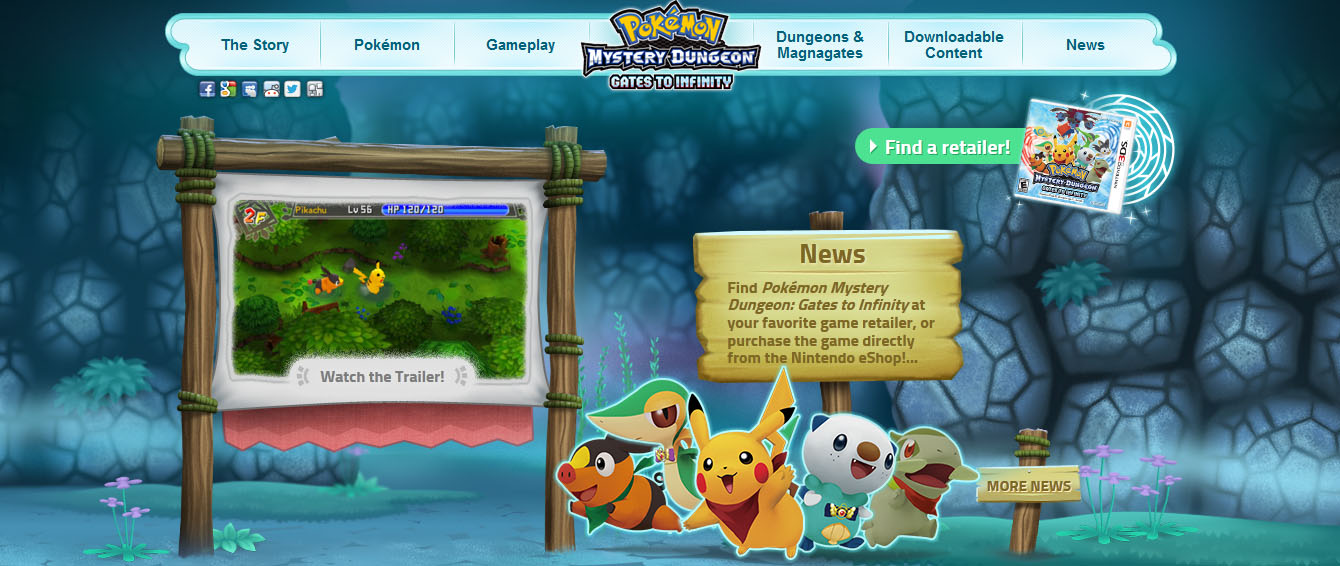 Enter a New World of Pokémon!
You're about to enter an amazing world where Pokémon speak, build towns, and go on incredible adventures. What's more, you'll become a Pokémon yourself! You will have the choice to play as Pikachu, Snivy, Tepig, Oshawott, or Axew. On your journey through this amazing world, you will also choose a partner who will always be at your side!
Downloadable Content
Look forward to many fun dungeons you can download and play in Pokémon Mystery Dungeon: Gates to Infinity. To download these dungeons, you'll need a Nintendo 3DS system that is connected to the Internet and a sufficient balance on your Nintendo eShop account. Your Nintendo eShop balance can be charged using a credit card or a Nintendo 3DS Prepaid Card.
Once you've acquired downloadable content, tap the DLC button on the main menu, or visit the DLC Guide in Post Town to play these new dungeons.
This downloadable content is optional—you don't need any additional content to complete your game.
Dungeon Exploration
Most of your time playing Pokémon Mystery Dungeon: Gates to Infinity will be spent in vast dungeons full of Pokémon! The dungeons can be dangerous, but there are many rewards that await those who explore their depths. If you can get all the way through a dungeon, great rewards may be yours. But if you get knocked out, you may have to return all the way to the entrance of the dungeon and lose some of your items and money, too!
Poké Forest
Download a cool new dungeon for your Pokémon Mystery Dungeon: Gates to Infinity game via the Nintendo eShop!
Poké Forest is filled with money, and you might even find some Gold Bars! But be careful—the enemies in Poké Forest are fearsome foes. Tiptoe around the sleeping Pokémon if you don't want to get into an epic battle!
The Poké Forest dungeon will be available for free until 4/30/13. Starting 5/1/13, you'll be able to purchase the Poké Forest dungeon for $2.00.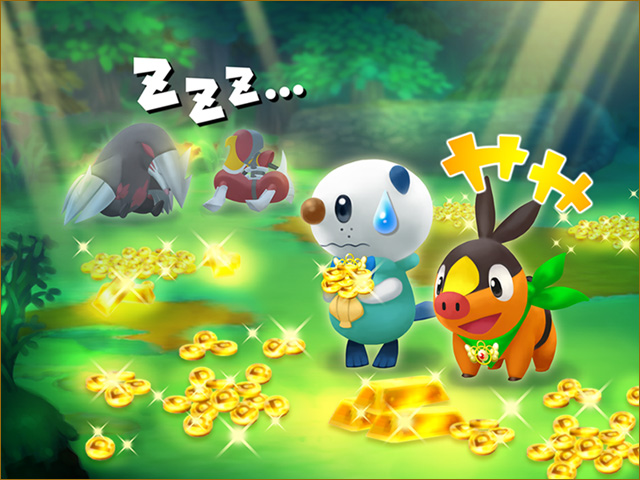 Source:
http://www.pokemonmysterydungeon.com/gates-to-infinity/en-us/