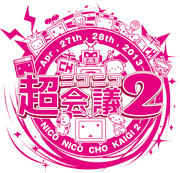 The official Japanese Pokémon Global Link website has announced the NicoNico Championships 2013 (ニコニコ超選手権2013) Wi-Fi tournament.
NicoNico Douga
is a popular video sharing website in Japan. The tournament is only open to players of the Japanese version of Pocket Monsters Black 2 and White 2 who are at least 18 years of age or older. The initial tournament will take place from April 6th, 2013 until April 8th, 2013 with the top 4 players to be invited to a battle in real life at the NicoNico Conference 2 which takes place April 27th, 2013 and April 28th, 2013.
Further details on this tournament will be revealed March 22nd, 2013. Our B2W2 Wi-Fi competitions page will be updated then
.
NicoNico Championships 2013 (ニコニコ超選手権2013)
4月27日(土)28日(日)に開催されるイベント「ニコニコ超会議2」と連動したWi-Fi大会「ニコニコ超選手権2013」の開催が決定しました。「ニコニコ超会議2」で行う決勝バトルに、Wi-Fi大会の上位4名をご招待します。開催日:4月6日(土)~8日(月) その他の詳しい情報は、3月22日ごろ公開予定です。
※本大会への参加はイベントの性質上、18歳以上のみに限らせていただきます。予めご了承ください。「ニコニコ超会議2」についての情報は、[くわしくはこちら]からリンクする公式サイトでご確認ください。
Source:
http://ja.pokemon-gl.com/#/information/620