The Pokémon Daisuki Club has announced that members can participate in a special of Pokémon Battle TROZEi! contest where they can win one of two limited edition Nintendo 3DS LL's featuring Pokémon Battle TROZEi icons.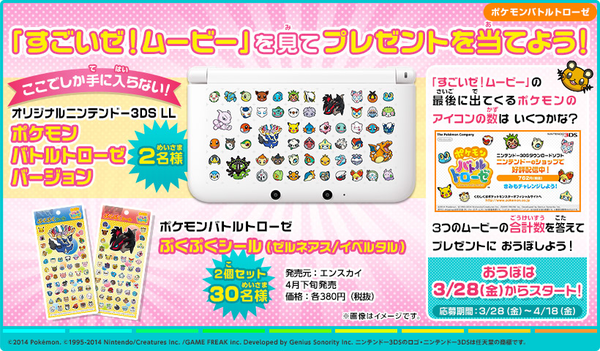 Pokémon Daisuki Club members need to watch three separate Awesome! Movie (すごいゼ!ムービー) . The first video is available now to view. The second video will be available on March 20th, 2014 and the third video will be posted on March 28th, 2014. Participants need to count the number of Pokémon icons that appear in the final promotion screen in each of the three videos and then add those numbers together and then submit that number to the contest between March 28th, 2014 and April 18th, 2014. 30 people will also get a double set of Xerneas/Yveltal bubble stickers.
Limited Edition Corocoro Pokémon Battle TROZEi themed Nintendo 3DS LL
The April issue of CoroCoro also revealed that they will be distributing a different Pokémon Battle TROZEi themed Nintendo 3DS LL to 5 people. The Nintendo 3DS LL is black and features icons from the game on the cover side.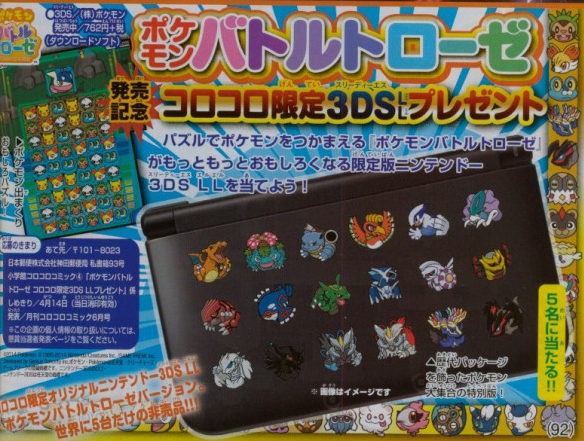 Source:
http://www.pokemon.jp/#/contents/game/cg_18/5.html