AIRDO announced today that the
Rokon Jet Hokkaido (ロコンジェット北海道)
, a specially painted AIRDO aircraft, will enter service on Wednesday, December 1st, 2021, with the aim of stimulating tourism in Hokkaido, with which they have concluded a comprehensive cooperation agreement with The Pokémon Company.
Pictures from the press release have been added to an Imageboard thread
.
1. Outline of the Rokon Jet Hokkaido
Aircraft: Boeing 767-300ER (aircraft number: JA607A)
Service Routes: Tokyo (Haneda) - Sapporo (Shin-Chitose), Asahikawa, Hakodate, etc.
Routes and flight numbers will be announced on a special website the day before the flight date.
Service period: Starting Wednesday, December 1st, 2021 for approximately five years (tentative)
2. Background of the service
The Pokémon Company has concluded a comprehensive cooperation agreement with Hokkaido, and is making various efforts to revitalize Hokkaido by using Alolan Rokon and Rokon.
3. Design Concept
AIRDO's Boeing 767 aircraft will be specially painted with an asymmetrical design of Rokon on the right side and the Alolan Rokon on the left side, together with AIRDO's corporate colors, AIRDO Yellow and AIRDO Blue, to add a colorful touch to air travel in Hokkaido. Please take note of the large design of the Rokons from the tip of the fuselage to the tail.
4. Airplane accessories, inflight services, and novelties
The headrest covers for the seats have Rokon characters relaxing on the left and right seats, and Rokon characters peeking into the center seat, creating a different view of the world for the left and right seats, just like the aircraft design. In the 37th row, two Rokons are showcased in the center seat, in reference to the Rokon's Pokémon identification number.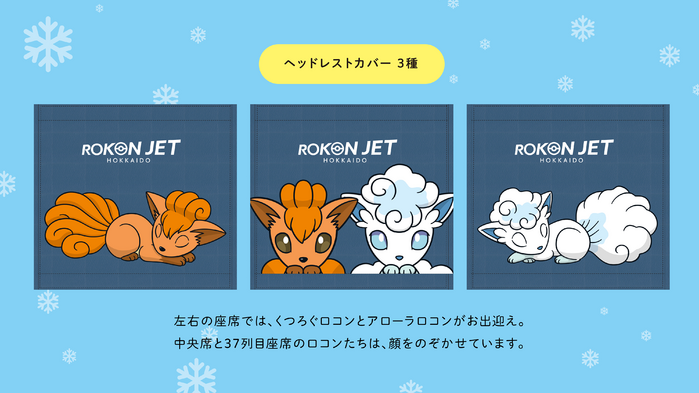 During drink service, cabin attendants will wear original aprons and serve drinks in original paper cups.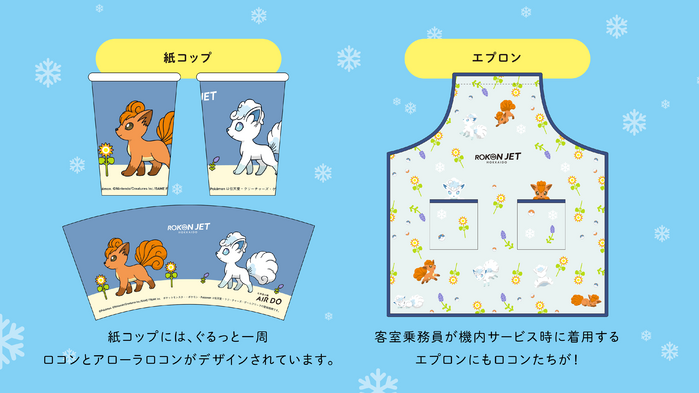 In addition, postcards and stickers will be available on board the flight only for the Rokon Jet, and will be handed out to passengers who wish to receive them.
5. Opening of a special website
A special website has been opened to showcase all the information about the Rokon Jet Hokkaido. The site includes a special movie, flight schedule for the next day, and a gallery corner with related photos. Please take a look at:
https://www.airdo.jp/information/rokonjet-hokkaido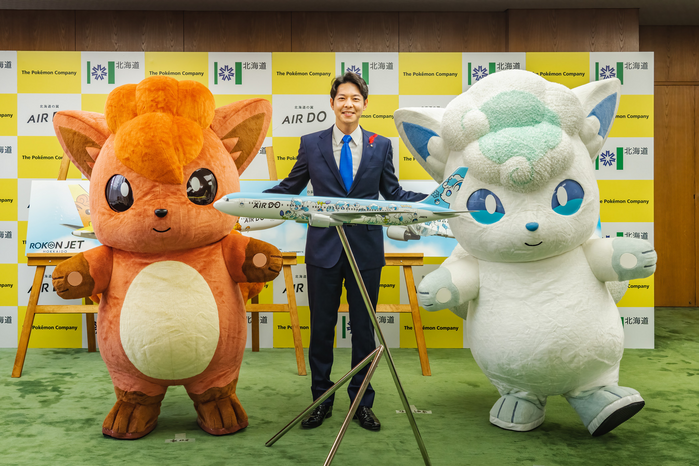 Source:
https://www.airdo.jp/information/rokonjet-hokkaido/