Due to COVID-19, the lineup of BUMP OF CHICKEN Silver Jubilee GOODS that were initially going to be sold at the BUMP OF CHICKEN LIVE 2022 Silver Jubilee at Makuhari Messe on February 10-11, 2022, were sold online instead on the
official BUMP OF CHICKEN website
. All items were designed by VERDY.
The Special collaboration items
Pokémon & BUMP OF CHICKEN Acacia TEE/Hoodie (with Blu-ray)
were available to purchase starting on February 10th, 2022. The special design features the Mythical Pokémon Mew, which appeared in the special Pokémon and BUMP OF CHICKEN music video
GOTCHA! released in September 2020
. The T-Shirt and the Hoodie both come with a Blu-ray featuring that music video.
It was previously available on DVD
. They items were scheduled to ship in mid-February 2022.
Details of this Blu-ray have been added to our media database
.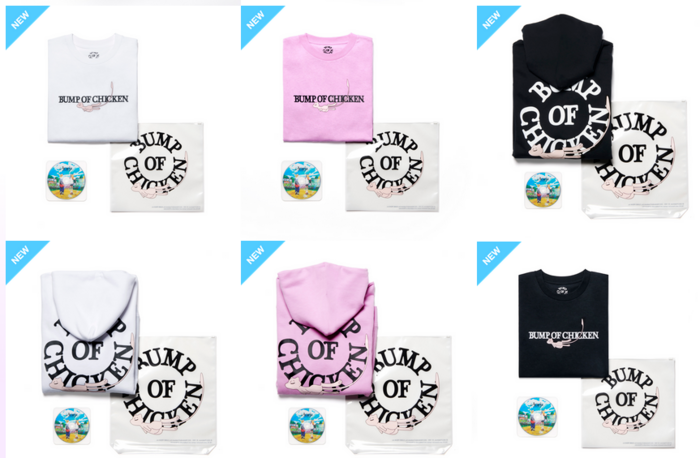 Items this Blu-ray was available with:
Pokemon & BUMP OF CHICKEN Acacia TEE(Blu-ray付)/BLACK¥5,500
Pokemon & BUMP OF CHICKEN Acacia TEE(Blu-ray付)/WHITE¥5,500
Pokemon & BUMP OF CHICKEN Acacia TEE(Blu-ray付)/PURPLE¥5,500
Pokemon & BUMP OF CHICKEN Acacia Hoodle(Blu-ray付)/BLACK¥8,800
Pokemon & BUMP OF CHICKEN Acacia Hoodle(Blu-ray付)/WHITE¥8,800
Pokemon & BUMP OF CHICKEN Acacia Hoodle(Blu-ray付)/PURPLE¥8,800
(Spelling Mistake Included - Hoodle / Hoodie)
Blu-ray Tracks:
01 Pokémon Special Music Video GOTCHA! (ポケモンスペシャルミュージックビデオ「GOTCHA!」)
02 Acacia from Studio Live Silver Jubilee (アカシア from Studio Live Silver Jubilee)
Source:
https://special.bumpofchicken.com/news/detail/149