The latest episode of Pokémon Sunday,
Do Your Best! Face Front, Rocket Gang / The Mega-popular PokéSun New Record! / Chief Golgo Battles the Chiba Prefecture Representative! (がんばれ!前向きロケット団 / 大好評!ポケサン新記録! / ゴルゴ所長と千葉県代表がバトル!)
, aired today in Japan.
The anime rerun episode for this week was 'Do Your Best! Face Front, Rocket Gang' which originally aired on
Shūkan Pokémon Hōsōkyoku (週間ポケモン放送局 )
,
episode 9
. Rocket Gang is sent flying into the air after being defeated by Satoshi's Pikachu and they land in front of a bunch of villagers who mistaken them for good guys. What will Rocket Gang decide to do?!
During the Pokémon Game Arena segment, Golgo battled the Chiba Prefecture representative, Keigo-kun.
At the end of the show Lucario runs into the room with a package from Game Freak director Jun'ichi Masuda in his hands. The crew goes crazy and wants to open the package immediately but before they can the show ends leaving a cliff hanger for next weeks episode.
During the preview for next week, as it was announced on Jun'ichi Masuda Game Freak directors blog earlier this week, a clip showing him with a card revealing new information was shown but a big question marked covered the card. Next weeks episode also includes Robert trying to find out "Who Phantom Champion Z is!?" (幻影の覇者Zってダレだ!?).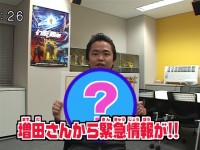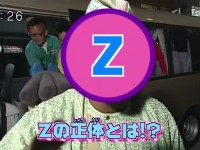 Click on images for higher resolution.
Pictures
and
characters
from this episode have been added to the
episode guide
. You can can also
comment and discuss
this episode. Also be sure to rate this and other episodes in the
episode guide
.