Mar 08
The official Pokémon movie website has updated with new story details, character profiles, and an interview with Yuyama. Translations follow:
Story
Diamond Ore Country.
A beautiful land located deep underground, where the "Jewel Pokémon" Melecie live in peace and prosperity.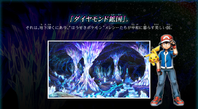 In this country, a giant diamond known as the "Sacred Diamond" can be found. For ages, the Sacred Diamond has played the role of an important energy resource, which keeps the ore country going. The only being with the power to create this type of diamond is princess Diancie herself. However, Diancie currently does not possess this power.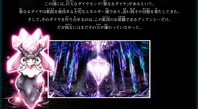 Time is starting to run out. The Sacred Diamond's lifespan is about to run out. When that happens, the beautiful ore country is going to perish! Having encountered Satoshi and Pikachu, Diancie sets out on a journey to save her country; a journey in search of the "Life Pokémon" Xerneas, seeking its sacred power.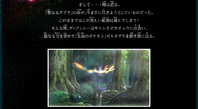 On their way, they get attacked by both the female thief Marilyn, the ninja thief Riot and the Rocket Gang, who all seek Diancie's powers for themselves.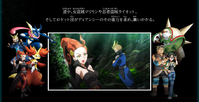 They overcome these ordeals with some help from a girl named Miriss and her father Algus, and continue onwards, however, a cocoon lies in wait for them... a cocoon where the "Destruction Pokémon" Yveltal, which is said to have once eradicated all life in the Kalos region, sleeps....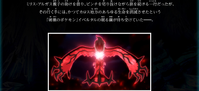 A major crisis is approaching!! Will Diancie manage to save her country?
And what will happen to Satoshi and Pikachu!?

Character Profiles: Feature Film
Picture
Biography
Xerneas:
Known as the "Life Pokémon", it is said to grant life to both people and Pokémon. When Yveltal caused the "Great Destruction", it is said Xerneas was the only Pokémon able to oppose it.
Species: Life Pokémon
Type: Fairy
Ability: Fairy Aura
Height: 3.0 m
Weight: 215.0 kg
Yveltal:
The Pokémon that once caused the "Great Destruction", which annihilated all life in the Kalos region. It is known as the "Destruction Pokémon", and is said to steal all life away. After it destroyed everything, Yveltal turned into a "Cocoon of Destruction", in which form it still sleeps today.
Species: Destruction Pokémon
Type: Dark/Flying
Ability: Dark Aura
Height: 5.8 m
Weight: 203.0 kg
Diancie:
The princess of Diamond Ore Country. In order to gain the power to create a "Sacred Diamond", the Diamond Ore Country's energy source, she has set out on a journey to find Xerneas.
Species: Jewel Pokémon
Type: Rock/Fairy
Ability: Clear Body
Height: 0.7 m
Weight: 8.8 kg
The Melecie:
Di: The elder of Diamond Ore Country. Has personally witnessed the "Great Destruction".
Majima, Nite and Joke: The Diamond Ore Country's butlers. They serve Diancie, and accompany her on her journey.
Marilyn Flame:
A beautiful female thief going after Diancie. Her partner is Mafoxy.
Ninja Riot:
A ninja thief hiding his face with a mask who's going after Diancie. His partner is Gekkouga.
The Rocket Gang:
To prevent the world's destruction! To protect the world's peace! They penetrate the evil of "Love" and "Truth"! The lovely, charmy villains! Aiming to conquer the world, they steal Pokémon from others, with Satoshi's Pikachu being their primary goal. This time, they have their eyes set on Diancie.
Algus Steel:
Miriss' father. He owns a giant blimp, and loves chocolate.
Miriss Steel:
Algus' daughter. She saved Diancie after it had been caught by the Rocket Gang. Her partner is Brigarron.
Mega Absol:
The mega evolved form of Absol. When it mega evolves, its energy is amplified and its fur bristles up, looking almost like wings.
Satoshi:
A Pokémon Trainer from Masara Town in the Kanto region. Together with his partner Pikachu, he has come to the Kalos region to pursue his dream of becoming a "Pokémon Master". He loves Pokémon more than anyone else, but hates crooked stuff. He has a strong heart and never gives up.
Citron:
This boy is a Gym Leader. A talented inventor, his backpack is equipped with an Eipam Arm he is very proud of.
Eureka:
Citron's little sister. A girl with a strong character who is always looking for brides for Citron. Citron lets her "keep" his Pokémon until she becomes a Pokémon Trainer.
Serena:
A girl who lives in Kalos and loves to dress well. Apparently, she has met Satoshi somewhere before...!?
Movie Short
Story:
One day, the Key Ring Pokémon Cleffy appear before Pikachu and friends. When it inserts a key possessing mysterious powers into a keyhole floating in the air, the keyhole lights up and expands, and an incredible world spreads out before them all. That's right: Cleffy holds keys that unlock lots of all-new worlds! Pikachu obtains one of these keys, what kind of world will that take them to?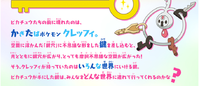 Characters:





Cleffy: The Key Ring Pokémon. This Pokémon loves keys, and collects a lot of them. By using Cleffy's keys, you can go to mysterious other worlds.



Jirachi
Manaphy
Victini
Darkrai



Pikachu
Harimaron
Fokko
Keromatsu



Dedenne
Nyarth
Sonansu
Maaiika
Scouting Report
This time, Director Yuyama chose Canada as the country he would go scouting in. He went there in search of the landscapes where Yveltal would sleep, where Xerneas would hide, and Diancie would journey.
The Pokémon Movies Enter a New Dimension!
As the new TV anime series started, the movies also received an all-new logo, being retitled "Pokémon the Movie XY" starting with this 17th installment, "The Cocoon of Destruction and Diancie"!
This is the first time in 3 years we've gone on a location scouting, the last time being for "Victini and the Dark Hero Zekrom/Victini and the Light Hero Reshiram". The country Director Yuyama chose this time was Canada.
There, he would search for the landscapes where Yveltal would sleep, where Xerneas would hide, and Diancie would journey. The location scouting team, Director Yuyama included, boarded a plane and started their 6-days-long journey.

Article edited on 2014-03-08 01:19:16 by Sunain
Mar 07
Nintendo has confirmed that a Pokémon Battle TROZEi Download Card (『ポケモンバトルトローゼ』のダウンロードカード) will be available to purchase at participating retail stores across Japan on March 12th, 2014 for 762yen (excluding tax). All Pokémon Centers will also sell the download card.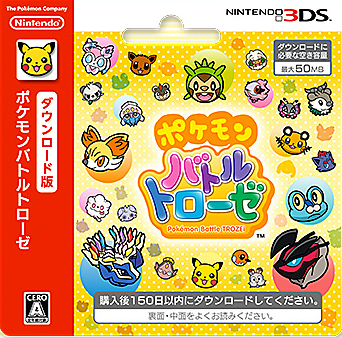 Store Locations
7/11 (セブン-イレブン)
Circle K Sunkus (サークルKサンクス)
EDION (エディオン)
Geo (ゲオ)
Joshin Denki (上新電機)
3Bee
Sofmap (ソフマップ)
TSUTAYA
Don Quijote (ドン・キホーテ)
Bic Camera (ビックカメラ)
Book Square (ブック・スクウェア)
Furuhon Ichiba (古本市場)
Home Expo (ホームエキスポ)
Yamada Denki (ヤマダ電機)
Yodobashi Camera (ヨドバシカメラ)
Source:
http://www.pokemon.co.jp/info/2014/03/140307_g01.html

Article edited on 2014-03-07 01:32:34 by Sunain
Mar 03
The 21st episode of Pokémon Get TV,
Pokémon Ghosts and the Summer Festival / In this First Installment of 'Get Better While Having Fun! PokéBatTours!', the Group has Pokémon Battles for Food Near Makuhari! / Atsuto Uchida Appears!
aired this Sunday.
After the usual preview clips of the episode, which branded this as an "Atsuto Uchida Special" episode, Taka and the rest of the hosts greeted the audience. As always, Taka did his usual gag of calling Shoko-tan cute, and she pointed out that she had gone to the Pokémon Center Tokyo and bought a bunch of Maaiika squid rice crackers, and gained 2 kg as a result. Taka pointed out that he likes them a bit chubby, and that hey, Yukito is kinda chubby too, and he's cute as well. Yukikto asks Taka to tell
him
that at the start of every episode too, and Taka tells him to come to his dressing room. He starts handing him the key, but Toshi stops him, saying
he
needs that key.
Today's guests are then introduced: The TV personality
Serina
and
Ayumu Kato
and
Yosuke Matsuo
from the comedian duo Xabungle, who used to be recurring guests on Pokémon Smash as well. As usual, the guests are asked about their favorite Pokémon. Serina's choice is Pikachu, which she does acknowledge as a stereotypical answer, but it's still the truth. Matsuo says he coincidentally likes Pikachu the best as well, while Kato says his favorite is everyone
except
for Pikachu. Taka then gets ready to introduce today's anime episode, but Toshi stops him and says they have another guest today as well; a big guest who'll be joining them all from Germany via a live video feed: Professional soccer player
Atsuto Uchida
, who's currently playing for
FC Schalke 04
in Gelsenkirchen, as well as the national Japanese soccer team.
Uchida greets Shoko-tan with Taka's usual line of calling her cute, which has quite a larger effect on her than when Taka says it. Uchida explains why he's joining them today: Pikachu has been chosen as the special supporter for the
"adidas Circle Project with Pokémon"
, a massive project where video streams get set up at various public venues so people can watch the Japanese team's matches in the Brazil World Cup. Many of these venues will have various celebrities present, Pikachu being one of these. Uchida tells that Pikachu will be present during the Kirin Challenge Cup friendly match where Japan plays New Zealand at March 5th and their Send-Off Game against Cyprus May 27th, as well as their World Cup qualification match against the Ivory Coast at Arena Pernambuco on June 15th, and tells all the Pokémon fans watching to please come to these public viewings.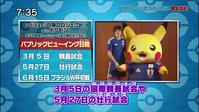 Toshi explains that Uchida will be taking part in the PokéTV Challenge today too, all the way from Germany. Before that, though, it's time for PokéTV Animation, and today's rerun: Pocket Monsters Episode 20,
Pokémon Ghosts and the Summer Festival
. After the episode ends, Shoko-tan explains that this episode's main Pokémon,
Ghos
, can't actually be found anywhere in Pocket Monsters X or Y, but you can obtain one by taking its evolved forms
Ghost
or
Gangar
to the Pokémon Day Care and hatching the egg that gets discovered there afterwards. Furthermore, in these games, Gangar can mega evolve further into Mega Gengar, which changes its Ability from
Levitate
to
Shadow Tag
, which prevents enemy Pokémon from escaping.
Finally, it's time for the PokéTV Challenge. Since Uchida is joining them via video feed from Germany, the only game they can easily play is "Brainbuster Quiz! PokéRiddle", so both of today's games ends up being this. The prize for the first game was a Pokémon Lunch Set, consisting of a lunch box, a plastic drinking bottle, a straw bottle and a hand towel set.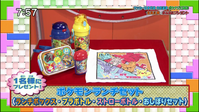 The question was as follows:
Question
Hint
Answer

The Pokémon are playing soccer. They wanted to form a Keromatsu team, a Namakero team, a Tamagetake team and a Pikachu team, but which of these teams could they not make? (ケロマツチーム ナマケロチーム タマゲタケチーム ピカチュウチーム この中で絶対にまけないのは どのポケモンチームでしょう?)

(...) not make.
(まけない)

Spoiler: Click to show!
While most of the members got the answer right away, Shoko-tan and Uchida both needed some heavy hinting before they finally caught on to the answer. Since all the members completed the challenge, Toshi drew a letter from a viewer to get the present: 11-year-old Ayana Kimura from Oita. Toshi then presented the prize for the second riddle: a Japanese soccer team uniform signed by Uchida himself, plus a pair of soccer cleats.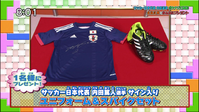 The question was as follows:
Question
Hint
Answer

The soccer team Satoshi and Pikachu play for received a written challenge from their rival team: We will definitely win the next tournament and get the "ゆうき"! What did the rival team talk about getting? (サトシとピカチュウが所属するサッカーチームにライバルチームから挑戦状 次の大会では絶対に勝ってゆうきをゲットするからな! ライバルチームがゲットするといっているのは何でしょう?)

A big ゆう and a small き

Spoiler: Click to show!
Once again, most of the members got the answer right away, while it took Kato and Uchida a bit of time to think of the correct answer. Since they passed the challenge, Toshi picked out another letter from a viewer. This time, the prize went to 7-year-old Maya Shinohara from Hyogo.
Next, Director Yukito introduced his all-new segment: "Get Better While Having Fun! PokéBatTours!". He explains that this is a show that combines Pokémon battles with city exploration: They'll wander around various towns, and when they get to eateries, they'll have a Pokémon battle to determine whether they get to eat there or not. The Pokémon Battle Tour members is led by Yukito himself. He brings with him the comedian duo
Rubber Girl
, which consists of
Tsubasa Tobinaga
, a Pokémon veteran who has currently played Pocket Monsters X for over 300 hours, and
Yosuke Omizu
, who is completely unfamiliar with the franchise. The final member of the team is model
Nicole Fujita
, a huge Pokémon fan who made it to the Hall of Fame in Pocket Monsters Y in just a single day, and who is sporting Pokémon nail designs for the occasion.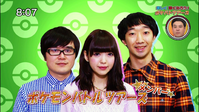 Today, the team will be hanging out in the Makuhari area in Chiba. As the group walks down the street looking for local specialties, Nicole spots the
Bay Melon Pan
store, named after their local specialty, a delicious melon bread that's crunchy on the outside and soft and fluffy on the inside. The group all want some, but Yukito stops them, and says they'll have to have a Pokémon battle first. The narrator then explains the rules for this segment: Every time they want to eat, one member of the team will have to fight an online battle against another player. The battles will be double battles, 4-on-4, with Pokémon getting their levels reduced to 50, and powerful Pokémon like Mewtwo being forbidden. The team member that will perform this battle will be chosen via lottery: Each member will pick one of three monster ball toys and open them, and the one to get the ball with a piece of paper saying "Challenge battle" inside will battle.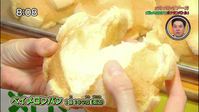 Omizu the Pokémon newbie "won" this first lottery. The four Pokémon he had chosen for his team were the Water/Dark type
Gekkouga
, the Water type
Lovecus
, the Water type
Kamex
and the Water type
Golduck
, and goes on to explain that he chose nothing but Water type Pokémon due to his name Omizu (大水, literally "great water" or "flood"). He is matched up against a player from Sweden, who starts by sending out a
Nidoqueen
and a male
Nyaonix
. Omizu starts with his Golduck and Gekkouga, however they're both underleveled: Golduck is level 36, and Gekkouga level 40. The rest of the team says he has no chance to win, but Omizu believes he can do it... at least until the Swede switches his Nidoqueen for a
Spin Rotom
, which knocks ot his Gekkouga with a single hit from
Volt Switch
, an Electric type attack further boosted by Rotom's Electric type on top of dealing double damage to Water types. The Swede's Nyaonix proceeds to beat both Omizu's Lovecus and Golduck with its
Psychic
, before finishing his Kamex with a
Heat Wave
from his
Mega Lizardon Y
. Yukito says that since they lost, there'll be no melon bread for them, and Tobinaga gives Omizu some post-battle advice: Level your Pokémon to at least 50, and don't use Pokémon that are all of the same type. Director Yukito gets to eat the melon bread all by himself, and makes sure to rub it in just how good it tastes, as the trio wovs to do better next time.
As they continue down the street, Nicole points to a sign advertising
Honke Zeppin! Nikomi Katsu-curry (本家絶品!煮込みカツカレー)
, which specializes in its unique namesake, "Nikomi Katsu-curry", or "Boiled Pork Cutlet Curry", which is made by boiling boned pork ribs in a special salt-based broth for four hours before deep-frying them and serving them with curry and rice.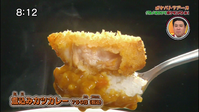 Of course, the team wants to try this. This time, Nicole wins the lottery, and will have to fight a Pokémon battle. She's fond of dragons, so she made Dragon type Pokémon the focus of her team, which consists of the Dark/Dragon type
Sazandora
, the Dragon/Flying type
Kairyu
and the Ground/Dragon type
Flygon
as well as the Psychic/Fairy type
Sirknight
for balance. She gets matched up against an American player, who starts off with a
Gablias
and a
Thunders
. Nicole starts off with her Kairyu and Sirknight, but her Kairyu gets defeated right away from one hit by the American Gablias'
Dragon Claw
. The Gablias then goes on to defeat her Sazandora and Flygon in one hit with Dragon Claw as well, and she loses badly. Tobinaga explains that Dragon types are weak against Dragon type moves, and she had too many of them on her team, which she tries to defend by saying she loves them so much. However, once again, Yukito gets to eat all by himself in front of the jealous trio.
The team continue their journey, as Yukito takes them to the ultimate goal for the day: The
Makuhari Messe International Convention Complex
, where the
Next Generation World Hobby Fair '14 Winter
is currently underway (this was January 25th and 26th). This is where the Tokyo qualification rounds for the
Dragon King Match
, the Shogi-inspired official tournament to determine the greatest Dragon type master in Japan. Battles are held in both the Pocket Monsters X and Y video games and the Pokémon Card Game, and there are also various shogi events for beginners going on. Of course, the PokéBat team will have to battle one of the participants in the Dragon King Match in order to eat one of the local specialties: Makuhari Potato from
Petit Marier Makuhari Sweets Factory
, which is highly popular with local women.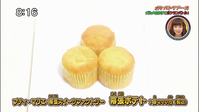 The opponent chosen for the battle is 9-year-old Seitaro Nozawa. The team gets happy about their chances once he tells them he lost in the first round of the Dragon King Match, and even more so when the Pokémon expert on the team, Tobinaga, wins the lottery and gets to face him, though they lose some of that confidence when Seitaro tells them he lost the first round in the
card game
division, and is actually pretty good at the video games. Seitaro starts by sending out
Hariteyama
and
Gangar
, while Tobinaga goes with
Marilli
and
Morobareru
, and utilizes an effective strategy where Morobareru uses
Rage Power
to direct all of Seitaro's attacks at itself, giving Marilli the opportunity to safely use
Belly Drum
, which sharply raises its Attack while cutting its HP in half. He largely recovers the lost HP with an
Obao (Sitrus) berry
, then proceeds to knock out Seitaro's team with repeated uses of the now highly powered-up
Aqua Jet
, easily winning.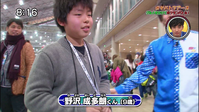 After the team has eaten the Makuhari Potato they won the right to, Tobinaga says he wants to try battling the winner of the video game division as well. Yukito agrees, and goes to get that day's (January 26th) winner:
12-year-old Haruto Akita
. Haruto starts the battle by sending out a male
Nyaonix
and a
Yukinooh
, while Tobnaga goes with
Yuradle
and
Lizardon
. However, Haruto immediately switches his Yukinooh for a
Dosidon
to receive minimal damage from the Fire type attack Tobinaga's Mega Lizardon X used against it, before having his Nyaonix use
Trick Room
to make slower Pokémon like Dosidon move first. He then has Nyaonix further boost Dosidon's
Rock Slide
with
Helping Hand
, dealing huge amounts of damage to Tobinaga's entire team. In the end, Tobinaga ends up badly beaten, learning that he's nowhere near the level of tournament winners yet.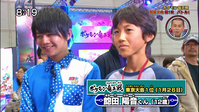 With this, today's PokéBatTours are over, but before the team leaves, Yukito points to a huge poster advertising the Pokémon World Championships, which will be held later this year in Washington D.C.. Tobinaga says they should all enter that, and Yukito agrees. Will this trio make it past the qualification rounds and all the way to America? Shoko-tan thinks it might be a bit hard for them, but as long as they pour enough love into their Pokémon, it will definitely pay off in the end. The hosts then end the episode by wishing Uchida good luck at the World Cup.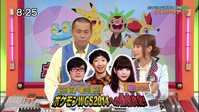 Article edited on 2014-03-03 10:14:47 by Adamant
Feb 28
Dedenne
has been confirmed to make an appearance in the upcoming Super Smash Bros for Wii U and Super Smash Bros for Nintendo 3DS games. Masahiro Sakurai (桜井政博), Director of the games, posted on Miiverse that in the upcoming games, Dedenne is hard at work too.
Source:
https://miiverse.nintendo.net/posts/AYMHAAACAAAYUKlLxf9O9A

Article edited on 2014-02-28 12:41:05 by Sunain
Feb 27
The Pokémon Company and Netflix announced today that
Pokémon: Indigo League
and
Pokémon: Black & White
seasons will be available to watch on Netflix starting on March 1st, 2014.
Pokémon The Movie White Victini and Zekrom and Pokémon The Movie Black Victini and Reshiram
will also be available. Viewers require a Netflix subscription in order to view them. Netflix is the second streaming service to offer the Pokémon anime as it's currently available on Hulu.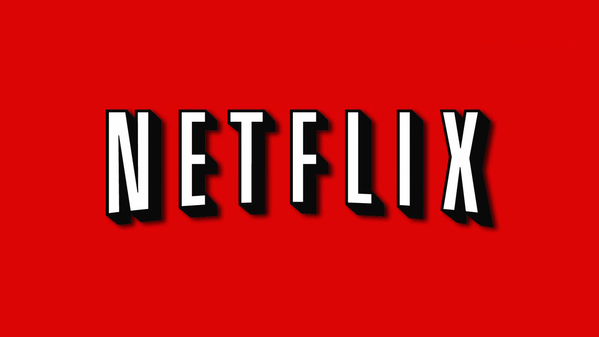 Netflix Is Next for Pokémon!
Watch Pokémon episodes and movies instantly on Netflix! Beginning Saturday, March 1st, Netflix members can instantly stream hours of awesome Pokémon animation! Don't miss aspiring Pokémon Master Ash and his trusted Pokémon partner, Pikachu, as they embark on adventures through two popular seasons of the animated series and two action-packed feature films.
Netflix members can watch TV episodes from the Pokémon: Black & White season, where Ash and Pikachu traveled to the Unova region to discover new rivals, new challenges, and all-new Pokémon. The very first season of Pokémon animation, Pokémon: Indigo League, will also be available to stream instantly. The classic season introduces viewers to the world of Pokémon through Ash and Pikachu as Ash strives to become a Pokémon Master.
Pokémon fans can also catch Ash, Pikachu, and their friends in the dual movies Pokémon the Movie: Black—Victini and Reshiram and Pokémon the Movie: White—Victini and Zekrom. Watch as Ash must prove himself a hero to earn the help of the Legendary Reshiram—or Zekrom—to rescue the Mythical Pokémon Victini and save Eindoak Town. Two Legendary Pokémon...and two exciting versions of the story! Visit Netflix today to watch exciting Pokémon adventures in TV and film!
Source:
http://www.pokemon.com/us/pokemon-news/netflix-is-next-for-pokemon/

Article edited on 2014-02-27 12:02:09 by Sunain