ポケモンTVアニメ主題歌 BEST OF BEST OF BEST 1997-2022 完全生産限定盤(8CD+DVD+豪華パッケージ仕様)
Pokémon TV Anime Theme Songs BEST OF BEST OF BEST 1997-2022 Kanzen Seisan Gentei-ban (8 CD + DVD + gōka package shiyō)
Pokémon TV Anime Theme Songs BEST OF BEST OF BEST 1997-2022 Limited Edition (8 CD + DVD + Special Packaging)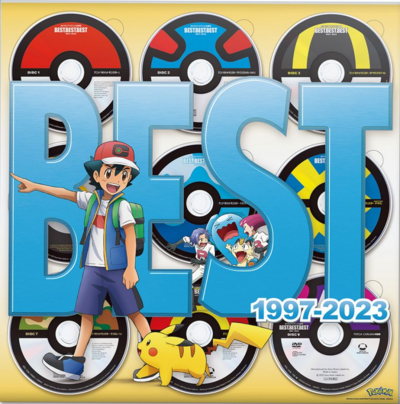 Details
| | |
| --- | --- |
| Artists: | 松本梨香, Whiteberry, 田村直美, 犬山犬子, さち&じゅり, 愛河里花子, うえだゆうじ, 岩崎宏美, GARDEN |
| Arists (Alt): | Rica Matsumoto, Whiteberry, Naomi Tamura, Inuko Inuyama, Sachi & Juri, Rikako Aikawa, Yuji Ueda, Hiromi Iwasaki, GARDEN |
| Catalog #: | SRCL-12390~99 |
| Release Date: | 2023-02-01 |
| Media Type: | CD |
| Discs/Tracks: | 78 tracks on 8 discs |
| Price/MSRP: | 9,980円 |
| Runtime: | 00:00 |
Description:
To commemorate the 25th anniversary of the TV anime's, which began airing in 1997, the "Pokémon TV Anime Theme Songs BEST OF BEST OF BEST 1997-2022", an album of the best TV anime theme songs, will be released on February 1st, 2023.
It includes 78 songs from the first OP song "Aim To Be A Pokémon Master" to the latest song "1, 2, 3," as well as the ED songs.
The limited edition Blu-ray and DVD will include a bonus video (contents to be announced at a later date). It will released in a spectacular package. The Limited Edition will be available in limited quantities, so be sure to reserve your copy as soon as possible.
Please take this opportunity to look back on the history of Satoshi and Pikachu's journey and listen to the TV anime theme songs!
1997年のTVアニメ放送開始から25周年を記念して、TVアニメ主題歌をまとめたベストアルバム「ポケモンTVアニメ主題歌 BEST OF BEST OF BEST 1997-2022」が、2023年2月1日(水)に発売されることが決定しました。
初代OP曲「めざせポケモンマスター」から、最新曲「1・2・3」まで、さらにED曲も含めた全78曲を収録します。
完全生産限定盤は、Blu-rayおよびDVDの特典映像(内容後日発表)が付属。さらに豪華パッケージ仕様となることも決定しています。完全生産限定盤は数量限定となるので、ぜひお早めにご予約ください。
ぜひこの機会に、サトシとピカチュウが歩んできた旅の歴史を振り返るとともに、TVアニメ主題歌も聴いてみてください。
Images