The release date for the upcoming game
Battle & Get! Pokémon Typing DS (バトル&ゲット! ポケモンタイピングDS)
was announced on the
official Japanese Pokémon website
. The game will be released in Japan on April 21st, 2011.

Click on images for higher resolution
The game is a touch typing tutor which utilizes Pokémon to make the learning experience a lot more enjoyable. Children can work towards the goal of being able to touch type but also have fun with many of the new 5th Generation Pokémon. However, the game is not just targeted at kids as adults will also find the game challenging even for those that already have good typing skills.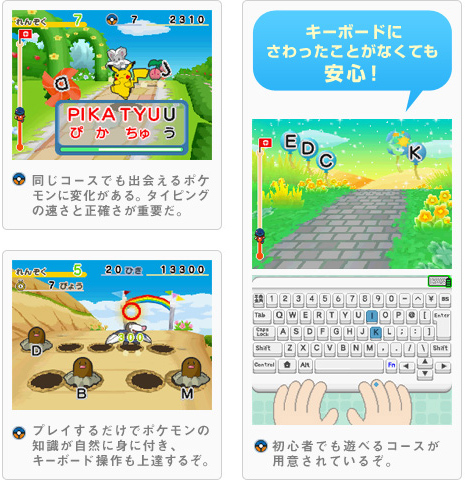 Newly Revealed Information:
Release date: April 21st, 2011 - Bundled with keyboard.
Over 400 Pokémon are featured in the game mainly from the Isshu region.
There are a variety of courses in the game such as a forest and a water course where players meet and type Pokémon names.
The Bluetooth keyboard is 264mm by 113mm, 20mm thick and weighs 300grams.
Source:
http://www.pokemon.co.jp/info/2011/03/g110301_01.html