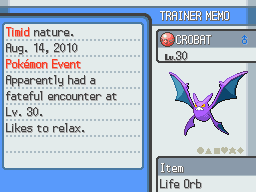 A special Pokémon will be distributed to gamers with Nintendo DS systems at the Pokémon World Championships that is taking place this week in Waikoloa, Hawaii. The Crobat is level 30 and holds a Life Orb. Below is the press release.
Attention, all gamers who plan to attend the Pokémon World Championships this weekend! Don't forget to bring your copy of the Pokémon Diamond, Pokémon Pearl, Pokémon Platinum Version, Pokémon HeartGold Version or Pokémon SoulSilver Version game to the event. You'll have the chance to receive a competition-ready Crobat for your game.
This distribution will be available for only a limited time on Sunday
, so be sure to bring your Nintendo DS and one of the Pokémon games listed here so you can get this awesome Crobat!
Source:
http://www.pokemonworldchampionships.com