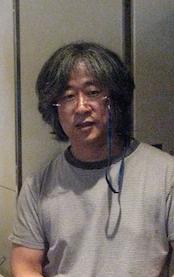 Sean Robbins (a.k.a. SeanBird) from the
J-Pop Exchange
has posted on the
Imageboard
stating that the audio, unreleased BGM from
Advanced Generation
and transcript from his exclusive interview with Mr. Miyazaki on his radio show are available on his website from August 30th through September 6th, 2010. The interview was recorded in mid-April of 2009 and aired on May 30th, 2009.
We originally reported about the interview at that time
.
Below is excerpts from
SeanBird's post on the Imageboard
explaining a bit about the interview: "...you can listen to two pieces of music that are, as of this writing, not available on CD (I don't know what tracks are going to be on the CD that is going to be released in September). They were given to me, at my request for airplay on my radio show The J-Pop Exchange, which airs on WVCR 88.3 FM.
The pieces are: The 6th Cue that was recorded in the 2002 Work order. This is my favorite piece that Mr. Miyazaki created for the Pokémon TV series. This is the piece that you hear in
episode 1 of the original Japanese version of Pokémon Advanced Generation
in which Ash climbs the mountain with Pikachu. Please note the cue you hear when Ash is on the phone earlier in this episode is actually a separate BGM. The cue I have is the more orchestral one."
Shinji Miyazaki's latest CD,
TV Anime Pocket Monsters Original Soundtrack Best 1997-2010
will be released in Japan next week.
Source:
http://www.jpopexchange.net