Pokémon Pikachu & Friends Starring Eevee
Pokémon Pikachu & Friends Starring Eevee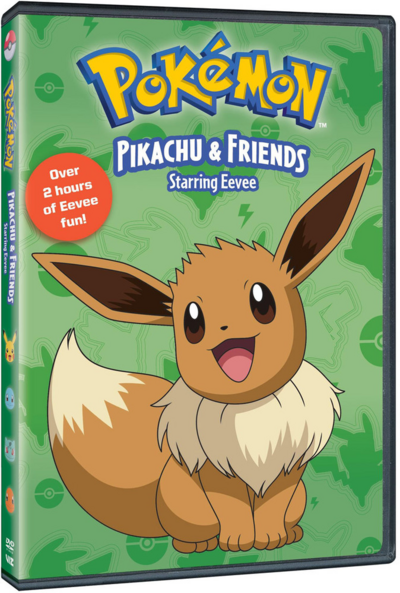 Details
Audio Tracks:
English
Publisher:
VIZ Media
Catalog #:
3000090915
Release Date:
2022-09-20
Aspect Ratio:
4:3
Region Code:

Video Format:
NTSC
Storage Medium:
DVD9
Closed Captions?:
Yes
Rental Only?:
No
Price:
$14.98
Description
Pokémon: Pikachu & Friends - Starring Eevee contains 8 episodes featuring some of Eevee's greatest moments from the Pokémon anime!
Fluffy and full of evolutionary potential-it's Eevee! Join Ash, Pikachu, and their friends as they make new discoveries about this adorable Pokémon.
First, a boy questions whether to evolve his Eevee, and Pikachu faces off against Gary's Eevee in battle.
Later, May gets a surprise when the Pokémon Egg she's carrying starts to hatch!
Then, a pair of Eevee take the stage in the Sinnoh Grand Festival, and three more accompany our heroes for an island exploration.
Finally, Serena catches an Eevee who eventually evolves into Sylveon, and Lana's Eevee, Sandy, gets into some mischief with Shaymin and Meltan.
Images