Summary:
The 6th ending for the Pocket Monsters Diamond and Pearl series replaced Dotchi ~ Nyo? (ドッチ~ニョ?) in DP183. It features the return of the vocal artist MADOKA who sang Secret Garden in the 5th Pocket Monsters Movie.
The ending begins with blue sky and a few clouds in the background with a few sunflowers that fade in the foreground. The sunflowers scroll off to the right as Satoshi and friends in beach clothes show up playing with a ball. The ball gets away and Pochama runs after it.
The next scene fades in as the main characters rest under the shade on a big tree and Pikachu takes a nap. The following scene is in a forest with a large waterfall as Hikari stretches her arms above her head.
A sparkler is seen in the middle of the screen in the next segment as it fades out to Satoshi watching fireworks up in the sky at night as Pochama looks at the sparkler that Hikari is holding.
Project Pochama "It'll be fine!" MV - TV Anime Pocket Monsters DP Ending Theme Special Medley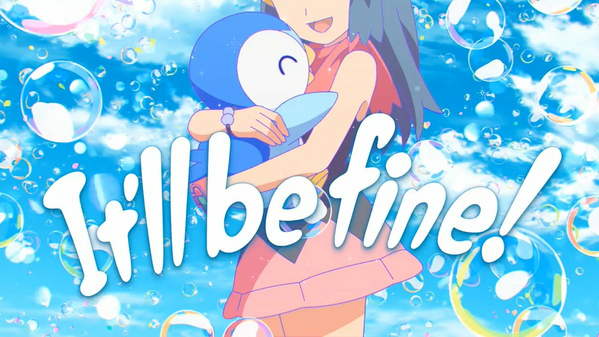 The official Japanese Pokémon YouTube channel posted a Project Pochama video titled:
"It'll be fine!" MV - TV Animation Pocket Monsters Diamond and Pearl Ending Theme Special Medley (プロジェクトポッチャマ「It'll be fine!」MV ~テレビアニメ「ポケットモンスター ダイヤモンド・パール」エンディングテーマ スペシャルメドレー~)
on January 13th, 2022. The special animated music video featuring
Hikari's Pochama
is a medley of some the ending themes from the TV anime Pocket Monsters Diamond and Pearl. The songs are sung by
Hikari's
Japanese voice actress
Megumi Toyoguchi
.
Medley Playlist:
1.
Kimi no Soba de ~Hikari no Theme~ 「君のそばで ~ヒカリのテーマ~」
0:00-0:41
2.
Ashita wa Kitto 「あしたはきっと」
0:42-1:12
3.
Kimi no Mune ni La La La 「君の胸にLaLaLa」
1:13-1:51
4.
Kaze no Message 「風のメッセージ」
01:52-End
YouTube Clip - Project Pochama "It'll be fine!" MV - TV Animation Pocket Monsters Diamond and Pearl Ending Theme Special Medley
Source:
https://www.youtube.com/watch?v=__HPQPjSdzw
Episodes: