Summary:
Ashita wa Kitto is a depressing and boring ending that features Hikari's Pochama in an emo state. The ending first aired in the Ginga-dan Attacks! (ギンガ団襲撃!! -前編-) special, DP96-DP97 and it ran for what seemed like eternity to many until it was replaced by Moeyo Gizamimi Pichu! (もえよ ギザみみピチュー!) in DP121 Evolution! This Time for Pochama!? (進化!その時ポッチャマは!?).
The ending starts off with Pochama walking by itself at night. A larger semi-transparent version of Pochama appears on the left side. A picture of Pochama getting into a fight with Pikachu is shown as all of the other main characters Pokémon look on. The painting transitions to a zoomed in version of Pikachu and Pochama as they continue to fight. Pochama is depicted as being mad after the tussle with Pikachu and smoke is seen coming out of its head as it storms off.
The scene changes to a larger Pochama walking on the right side of the screen. A painting of Pochama and Pikachu both cheering is shown as Pochama remembers the good times they had together. The rest of the main characters Pokémon show up on the next painting all having fun. It then shows all the Pokémon making head sculptures of Satoshi, Hikari and Takeshi out of snow.
Pochama looks up into the sky and sees a shooting star. Two more shooting stars go by and Pochama then turns around to see Pikachu and all the other Pokémon running towards it. With tears in its eyes, Pochama runs towards then and high fives Pikachu.
Project Pochama "It'll be fine!" MV - TV Anime Pocket Monsters DP Ending Theme Special Medley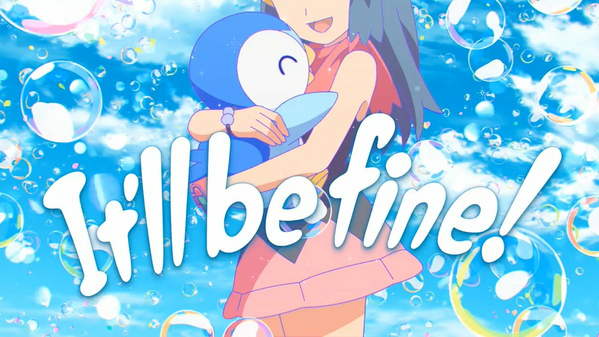 The official Japanese Pokémon YouTube channel posted a Project Pochama video titled:
"It'll be fine!" MV - TV Animation Pocket Monsters Diamond and Pearl Ending Theme Special Medley (プロジェクトポッチャマ「It'll be fine!」MV ~テレビアニメ「ポケットモンスター ダイヤモンド・パール」エンディングテーマ スペシャルメドレー~)
on January 13th, 2022. The special animated music video featuring
Hikari's Pochama
is a medley of some the ending themes from the TV anime Pocket Monsters Diamond and Pearl. The songs are sung by
Hikari's
Japanese voice actress
Megumi Toyoguchi
.
Medley Playlist:
1.
Kimi no Soba de ~Hikari no Theme~ 「君のそばで ~ヒカリのテーマ~」
0:00-0:41
2.
Ashita wa Kitto 「あしたはきっと」
0:42-1:12
3.
Kimi no Mune ni La La La 「君の胸にLaLaLa」
1:13-1:51
4.
Kaze no Message 「風のメッセージ」
01:52-End
YouTube Clip - Project Pochama "It'll be fine!" MV - TV Animation Pocket Monsters Diamond and Pearl Ending Theme Special Medley
Source:
https://www.youtube.com/watch?v=__HPQPjSdzw
Episodes: