Pokémon: Season 14 - Black & White: Collection 2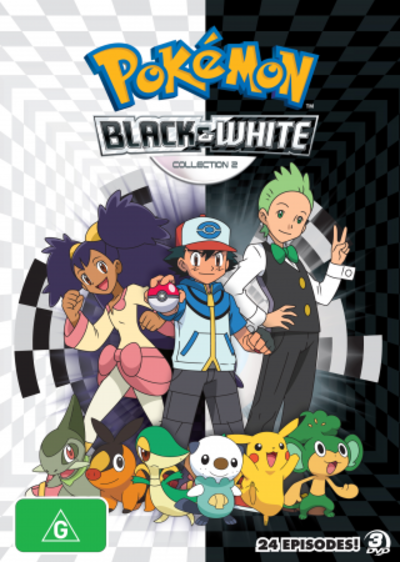 Details
Audio Tracks:
English
Publisher:
Magna Home Entertainment
Catalog #:
DBX13914
Release Date:
2012-06-06
Aspect Ratio:
16:9
Region Code:
Video Format:
PAL
Storage Medium:
DVD9
Closed Captions?:
No
Rental Only?:
No
Price:
Description
For Ash Ketchum and his friends Iris and Cilan, the Unova region is a big place—but not big enough for these three Pokémon Trainers and all their new rivals! Ash thought he had his hands full with his rival Trip, but Georgia the Dragon Buster wants to beat Iris, and Burgundy, a junior Connoisseur with a grudge, considers Cilan her number one target. From Pokémon Gyms to tournaments, there's never a dull moment as our heroes take on their challengers and tackle new adventures, whether it's a missing Pokémon mystery or a runaway ghost train!
This collection covers the second half of the Pokémon Black & White series, featuring episodes 25-48 over three discs. All three discs are housed in one slim case the same as a single DVD, which is great for those collecting the entire series as it saves on shelf space and files nicely alongside other DVDs (unlike the old "super wallet" releases which were harder to store with other DVDs due to their unusual size and shape).
Despite eight episodes being packed onto each disc, the video quality is good with no noticeable compression issues. The episodes retain their 16:9 aspect ratio, so they are well-suited to modern TVs and monitors. But the best part about the quality is that it is consistent across both still scenes and action sequences. Some older releases (particularly the Orange Islands arc) suffered a big loss of quality in fast-paced scenes such as pokémon battles, but these new discs maintain a crisp look throughout, making them much more enjoyable to watch.
The DVD menu is simple and easy to navigate. The episode selection screen is quite nicely done, with small clips from each episode playing simultaneously to make them easy to identify. However, this screen is also strangely silent, with no background music. Of course that's not a huge problem since you'll want to be getting to the episodes rather than spending too much time on the menu, but some music still would have been a nice inclusion.
In terms of the content, this section of the series is unfortunately lacking in gym battles, but there are still some great episodes included, with more than half of them receiving an impressive rating of 8-10 by PocketMonsters.Net's users in our
Episode Guide
. Some of the important events covered in the episodes include the captures of Palpitoad, Stunfisk and Roggenrola, Excadrill learning to trust Iris, the battle tournament in Nimbasa Town, and Meowth's stint of joining Ash and friends. Also of note is that the "
Who's that Pokémon?
" eyecatches are included, which for some reason were removed from some of the previous Australian DVD collections. Although this is only a minor feature, it's still a nice improvement over older releases.
Images