アドバンス・アドベンチャー
Advance Adventure
Advance Adventure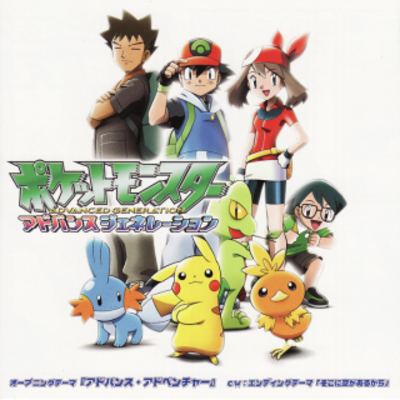 Details
| | |
| --- | --- |
| Artists: | GARDEN, 江崎 とし子 |
| Arists (Alt): | GARDEN, Toshiko Ezaki |
| Catalog #: | ZMCP-1505 |
| Release Date: | 2003-01-29 |
| Media Type: | CD |
| Discs/Tracks: | 10 tracks on 1 disc |
| Price/MSRP: | ¥1365 (1300) |
| Runtime: | 25:25 |
| Barcode: | 4 935228 996988 |
| Matrix / Runout: | TGCS-1565 1 |
| Mastering SID: | IFPI L274 |
| Mould SID: | IFPI 454E |
| Rights Society: | JASRAC |
Description:
Shinji Miyazaki only did the arrangements for the BGM on this CD. Tracks 5-7 are composed by Go Ichinose, Tracks 8 and 9 by Junichi Masuda, and Track 10 by Morikazu Aoki.
This CD contains tracks that are available on other Pocket Monsters CD's.
Click here for a detailed track comparison chart.
Images