Summary:
The
first
and final opening to the series features Rica Matsumoto (松本梨香) singing one of the most popular songs of the entire animated series. The opening features new and old footage from the original version of the opening.
THE FIRST TAKE - Rica Matsumoto
On March 17th, 2023, a video of Rica Matsumoto
participating with THE FIRST TAKE singing
Aim To Be A Pokémon Master -with my friends- was
posted
. THE FIRST TAKE is a YouTube Channel dedicated to shooting musicians and singers performing in a single take. ONE TAKE ONLY, ONE LIFE ONLY.
Episode 301 welcomes Rika Matsumoto, voice actress for Satoshi, the main character in the "Pokémon" TV animation series that has been broadcast since 1997 and is loved not only in Japan but around the world. She will perform "Mezase Pokemon Master -with my friends-," the opening theme song for anime "Pokemon: Mezase Pokemon Master," which is the final chapter of the story of the main characters Satoshi and Pikachu that will reach its final episode in the series next week on March 24th, 2023.
This time, the song will be performed live by a special composition that includes the band, electric violin, and chorus. Enjoy the one-shot performance, only on THE FIRST TAKE.
THE FIRST TAKE CREDITS
Director/Creative Director: Keisuke Shimizu
Art Director: Yo Kimura
Copywriter: Hiroshi Yamazaki
Director of Photogrphy: Akira Shimazu
Technical Coordinator: Masaaki Ogasawara
Chief Camera Assistant: Shota Hatano
Camera Assistant: Takumi Torii, Junpei Arai
Lighting Director: Kazuhide Toya
Chief Lighting Assistant: Yukinori Suda
Lighting Assistant: Jinpei Amano, Shingo Ouchi, Katsuya Sato, Shunsuke Hiroi
Stage Carpenter: studio noll
Offline Editor/Colorist/Online Editor: Tomoo Noda
Production Assistant: Yoshiko Okubo, Kai Takaha, Arisa Taki, Wakana Hashimoto
Producer: Keisuke Nishikawa (Pragma)
Artist Production Company: Sunmusic Production
Stylist: Syohei Fujinaga/Sakino Matsudo
Hair&Make: GAKU
Costume: Wild Lily,RANDA,zena,ABISTE,
[email protected]
Source:
https://www.youtube.com/watch?v=hMKf5mE3sdo
PokéDoko 50 - March 19th, 2023
Rica Matsumoto was a guest on
PokéDoko 50
and she sang the song near the end of the show.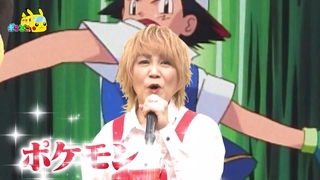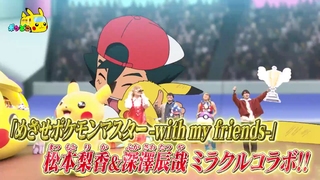 Episodes: