The first opening to the series features Rica Matsumoto (松本梨香) singing one of the most popular songs of the entire animated series.
The intro slash screen was replaced on the DVD's released and rerun episodes with a CGI updated one but returns to the originally animated intro once its scene is completed. The Pokémon type symbols circle around the logo as it zooms in.
The original three starters final evolutions: Charizard, Blastoise and Venasaur are quickly seen as Ash and Pikachu come on screen. Lass, a trainer from the games, makes a brief cameo in the opening as Ash's Pikachu run in between her legs as "or that girl's skirt..." [(あの子のスカートの中(きゃー)] is sung and the karaoke is displayed.
A tiled 4 box Pokémon sequence is displayed, showing a bunch of different Pokémon until it transitions back to Ash seen throwing a Poké Ball in preparation to get a Pokémon.
Ash and Pikachu are then seen on a Lapras traveling on the sea as Gyarados and Dragonair jumping out of the water. The intro then transitions back to Pallet Town as Ash overlooks it from a hill.
Misty and Brock make a brief appearance beside Ash as the friends are grouped together for the shot which is then followed by a similarly setup shot of Team Rocket grouped together. Gary, Nurse Joy, Officer Jenny, Professor Oak and Ash's mom Delia Ketchum are also shown.
One of the final scenes in the opening shows, Ash and his friends in a forest for the night camping out for the. Soon afterwards, the three Legendary Birds: Zapdos, Articuno and Moltres fly in the sky as it transitions to Mewtwo and Mew floating around in space.
The final sequence shows Ash in a large stadium holding a Poké Ball as Pikachu and is friends appear beside him. The Pokémon type symbols circle around Ash this time as the animated video shrinks to a small box new the top of the video.
Uta no Rakuen - 2010-10-24
Rica Matsumoto was accompanied on stage by
Shoko Nakagawa
and they both sang together on Uta no Rakuen which aired on October 24th, 2010 on TV Tokyo.
Violinist Ryoma x Rica Matsumoto Club333 Live (ヴァイオリニスト竜馬 × 松本梨香 Club333ライブ)
On Sunday, January 31st, 2021 at 17:00 JST, Violinist Ryoma and Rica Matsumoto performed at Tokyo Tower TV Club333 live and the concert was available to watch online for 3000 yen. The broadcast was available to purchase until February 14th, 2021 at 23:59 JST
via TwitCasting LIVE
. She performed two Pocket Monsters songs during the event: Mezase Pokémon Master and her cover of the movie 9 ending theme Mamoru Beki Mono.
More pictures from the event have been added to an Imageboard thread
.
Monitoring - April 8th, 2021
On Thursday, April 8th, 2021, Monitoring episode #258 aired on TBS from 20:00 to 21:57 JST. Rica Matsumoto participated in a transparent karaoke booth blitz during a segment on the show. She sang Mezase Pokémon Master using the ClubDam system which tracks the pitch and she scored 95.032 points singing the song live in the booth on the street. She also sang Soul's Refrain from Neon Genesis Evangelion.
More pictures from the event have been added to an Imageboard thread
.
A preview of this episode was
posted on the TBS official YouTube channel
and also on
Rica's official Twitter account
.
Karaoke Rica Matsumoto's Challenge! I Can't Leave Until I Get a 95!
On May 28th, 2021,
Rica posted a video on her offical Matsurika Channel (まつりかチャンネル) on YouTube
. The video featured her at a karaoke shop on May 14th, 2021 singing songs using the
JOYSOUND system
. She was going to stay there until she sang a song and managed to get a score of 95 or higher. She decided to sing Aim To Be A Pokémon Master but she only scored 91, so she had to continue singing songs.
YouTube Clip - Aim To Be A Pokémon Master
Source:
https://www.youtube.com/watch?v=PMEc5j7isKc&t=499s
Rica Matsumoto Special Live - Rambling Terrance ViNAWALK Ebina - August 22nd, 2021
Rica Matsumoto Special Live (松本梨香スペシャルライブ) event was held at the
Rambling Terrance ViNAWALK Ebina
on August 22nd, 2021. She held a concert where she performed songs including Mezase Pokémon Master. After the concert, there were CD, DVD, and other goods for sale and those who purchase the picture book with CD were able to get a postcard signed. Due to COVID-19 restrictions in place at the time in Japan, a viewing zone was set up for the stage event and its capacity was limited by lottery.
An Imageboard thread with more pictures from this event is available here
.
The
set list
for the 1pm show on August 22nd, 2021 was as follows:
Best Wishes (ベストウイッシュ!)
Ganbare Wssyoi (顔晴れワッショイ!)
Mezase Pokémon Master (めざせポケモンマスター-20th Anniversary-)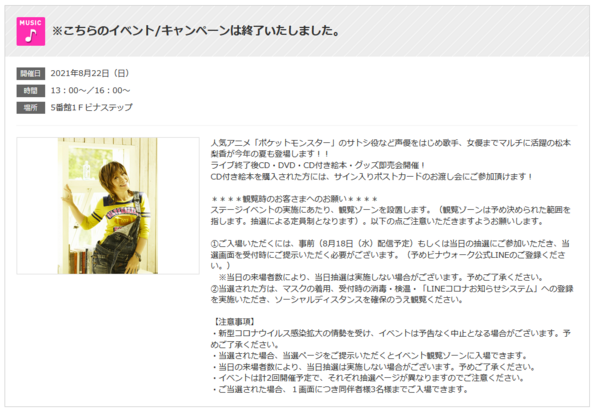 BS TV East Song Festival - January 1st, 2022
The
BS TV East Song Festival (BSテレ東歌謡FESTIVAL)
broadcast on BS Japan
on January 1st, 2022. Rica Matsumoto was one of the performers and she sang Mezase Pokémon Master -20th Anniversary- and was joined on stage by Pikachu.
Japan's Power Songs (ニッポンの歌ヂカラ) - December 3rd, 2022
Miyuki Kadomatsu (門松みゆき) sung Aim To Be A Pokémon Master with Rica performing her song just before. Rica was watching off to the side of the stage and dancing along as Miyuki sang the song.