2013-06-01 The Pokémon Harbor Patrol!
2013-02-28 急げ!ポケモン湾岸救助隊!!
2013-02-28 Isoge! Pokémon wangan kyūjotai!!
2013-02-28 Hurry! The Pokémon Gulf Coast Relief Corps!!
2013-08-29 Die Pokémon Hafenpolizei in Aktion!
2013-06-05 La Patrouille portuaire Pokémon !
2013-09-26 ¡La Patrulla portuaria Pokémon!
2014-03-23 Pokémon hamn-patrullen!
2013-06-24 La Pattuglia portuale Pokémon!
2014-02-26 ¡La patrulla portuaria Pokémon!
Pokémon-satamapartio!
De Pokémon Havenpolitie!
2014-02-26 A Patrulha Portuária de Pokémon!
Pokémon-havne-patruljen!
Pokémon Havnepatruljen!
2013-05-22 서둘러라! 포켓몬 연안구조대
2014-05-11 A Patrulha Portuária Pokémon!
Прибрежный патруль Покемонов!
Become an Arrow! 2013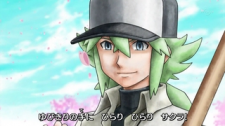 Sakura Go-Round

BW Adventures in Unova