2013-07-06 Ash and N: A Clash of Ideals!
2013-04-04 白の遺跡!サトシ対N!!
2013-04-04 Shiro no Iseki! Satoshi tai N!!
2013-04-04 The White Ruins! Satoshi VS N!!
2013-09-03 Wunschbilder im Widerspruch!
2013-06-16 Sacha et N : le choc des idéaux !
2013-10-01 ¡Ash y N: ¡un choque de ideales!
2014-03-23 Ash och N: en kollision mellan olika ideal!
2013-09-02 Ash e N: due ideali a confronto!
2014-03-05 ¡Ash y N: un enfrentamiento de ideales!
Ash ja N: Ihanteiden törmäys!
Ash en N: Botsende idealen!
2014-03-05 Ash e N: Um choque de ideais!
Ash og N: En kræsj av idealer!
Ash, N og idealernes sammenstød!
2013-05-29 백의 유적! 지우 VS N!!
2014-05-31 Ash e N: Um Choque de Ideais!
Эш и Н: столкновение идеалов!
Become an Arrow! 2013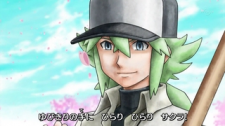 Sakura Go-Round

BW Adventures in Unova