Pokémon The Series: Diamond and Pearl Galactic Battles Complete Season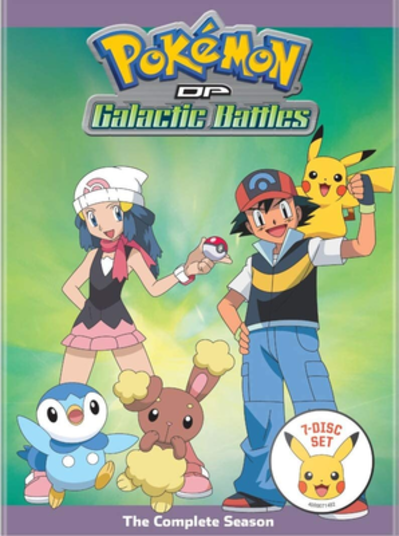 Details
Audio Tracks:
English
Publisher:
Viz Media
Catalog #:
7-82009-24663-3
Release Date:
2020-08-18
Aspect Ratio:
4:3
Region Code:

Video Format:
NTSC
Storage Medium:
DVD5
Closed Captions?:
No
Rental Only?:
No
Price:
$59.99
Description
As the menace of Team Galactic continues to loom over the Sinnoh region, Ash and Dawn keep getting caught up in the schemes of this mysterious group of villains—as well as facing some other unexpected challenges! Dawn's got her hands full dealing with the many problems of her Pokémon, while Ash's ongoing rivalry with Paul finally comes to a head in a full 6-on-6 battle! It might be the ultimate test of training styles—will our heroes come out on top?
Note (2021-04-30): This DVD uses the same masters currently being use on Amazon Prime Video, but downscaled for DVD.
The 4:3/Fullscreen episodes span the first 2 discs. The video used is not VFR and is stuck at a constant 23.97fps in progressive scan for discs 1 & 2. Disc 3 and on is when the series switches to 16:9/Widescreen. From Disc 3, the framerate issue is no longer present.