His first work for the anime series was Pokémon the Origin. He has held many positions including being the general director of the main anime series.
On November 27th, 2021, the official Japanese Twitter account
posted
a Production Secrets post to promote the two DP specials featuring a comment from Series Director Daiki Tomiyasu.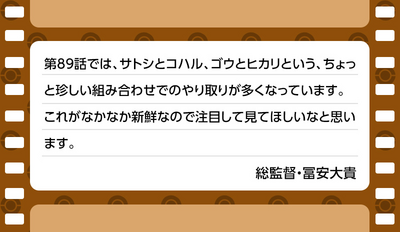 Anipoke Production Secrets [Part 2]
In episode 89, we have some match-ups that we don't see too often with Satoshi and Koharu as well as Go and Hikari that result in a lot of unique conversations. This is something we don't see everyday so I hope you'll pay attention to them as you watch the episode.
Series Director Daiki Tomiyasu