TVアニメ ポケットモンスター オリジナルサウンドトラック ベスト 1997-2010
TV Anime Pocket Monsters Original Soundtrack Best 1997-2010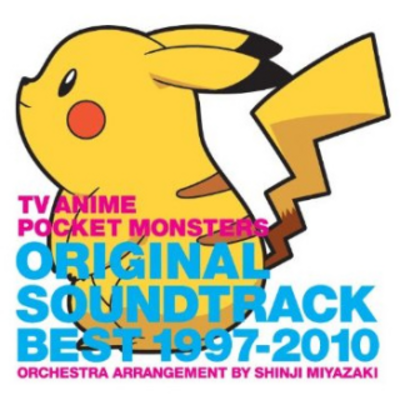 Details
| | |
| --- | --- |
| Artists: | 宮崎慎二 |
| Artists (Alt): | Shinji Miyazaki |
| Catalog #: | ZMCP-5452 |
| Release Date: | 2010-09-08 |
| Media Type: | CD |
| Discs/Tracks: | 88 tracks on 2 discs |
| Price/MSRP: | 2730円 |
| Runtime: | 2:14:05 |
Description:
TVアニメ ポケットモンスターのオリジナルサウンドトラックの中から、宮崎慎二がオーケストラアレンジしたゲーム原曲だけをベストセレクション!! 記念すべき初のオーケストラ・ベストが、2枚組スペシャルプライスでリリース! 今回新たに、今までの音源をマスターテープから迫力溢れるデジタルマスタリング化した、豪華全80曲を収録予定! 『赤・緑~ダイヤモンド・パール』シリーズまで、永久保存盤のTVアニメ・ポケットモンスターBGMベスト!! 豪華16Pカラーブックレット (宮崎慎二VSゲームフリークサウンドチームによるスペシャル音楽対談を掲載!)付き。
TV Anime Pocket Monsters Original Soundtrack Best 1997-2010 features background music from the original, Advanced Generation and Diamond and Pearl anime series. The 2 disc set will feature 88 of the best tracks from those series. It also includes a 16 page color booklet with an interview with Shinji Miyazaki. The CD's are also digitally mastered from the original masters.
A translation of the interview included in the booklet is
available by clicking here
.
This CD contains tracks that are available on other Pocket Monsters CD's.
Click here for a detailed track comparison chart.
Images