Pokémon: The Heritage Collection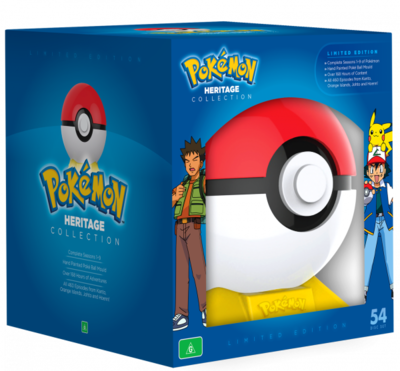 Details
Audio Tracks:
English
Publisher:
Beyond Home Entertainment
Catalog #:
BHE5566
Release Date:
2014-11-19
Aspect Ratio:
4:3
Region Code:
Video Format:
PAL
Storage Medium:
DVD9
Closed Captions?:
No
Rental Only?:
No
Price:
Description
Join Ash and all his friends in this epic anthology comprising the complete seasons 1-9! Relive all your favourite Poké moments from Kanto, the Orange Islands, Johto and Hoenn. Who could forget the moment Ash meets his best pal Pikachu, while they got off to a rocky start it wasn't long until they became inseparable companions. Remember when ash meets Misty? He was so desperate to save Pikachu that he stole her bike, wrecking it in his rush to get Pikachu to a Pokémon Centre. Can you remember the first Pokémon Ash every catches? That's right, it was a Caterpie! This Heritage collection contains all these iconic Pokémon moments and much, much more…
Reintroduce yourself to all of Ash's friends, Misty – the first travel companion Ash meets on the road. Brock – the first Gym Leader Ash ever faced, and on his own quest to become the world's best Pokémon Breeder. Tracey – who met Ash in the Orange Islands, after hearing Ash knew Professor Oak, his hero, Tracey invited himself into the group. May – an aspiring coordinator from Petalburg City with dreams of winning the Hoenn Grand Festival. Max – too young to be a Pokémon trainer, but very knowledgeable, Max journeys with Ash to try and find the true meaning of being a Pokémon trainer!
With 54 discs and over 168 hours of content this limited edition collectors set is beautifully presented in a limited release Poké Ball resin mould, the ultimate gift for the ultimate fan!
Images